Bergsten Dining
Food should be a fun, memorable experience for all. Our dining halls are arranged around destinations – action station areas that promote fun and excitement at everyday meals. Instead of all the food preparation occurring behind the scenes in a back kitchen, Fresh Ideas brings the action of a kitchen to the students. Food can be exciting, beautiful, tasty and fun – an experience to remember.
This all-you-care-to-eat dining venue offers a variety of menu options.  Food is produced from the freshest ingredients and prepared just for you.  Choose from the Chef's Table featuring traditional home-style entrées or the Mongolian Fusion and La Comida station featuring healthy, authentic Mexican and Mongolian cuisine. The Culinary Expo/Grill offers freshly prepared specialty items and Trattoria features Italian pizza, sandwiches and pastas. Enjoy the Soup & Fresh Salad Station and an array of handcrafted desserts and beverages.
The dining hall is open to the community and those who do not have a meal plan. Dining hall pricing is as follows: Breakfast $4.65 – Lunch $5.00 – Dinner $6.35 – Brunch $6.10 – Steak Night $7.45. Prices do not include tax.
Reusable To-Go Container Program
For students on the go, we are excited to offer a new program that allows students to use an eco-friendly container for their meal. The to-go containers can then be returned for a clean and sanitized box or a token that can be redeemed for a to-go container in the future.
Special Dietary Needs
Our culinarians are very aware of today's dietary restrictions as well as food lifestyles that are becoming popular. Fresh Ideas will accommodate physician ordered diets, dietary choices including vegetarian, vegan and gluten free, and diners with allergies. Menus are posted with nutritional information at every meal. Our corporate dietitians are always available to provide guidance for students and families. In some cases, special food is kept on site for students with dietary restrictions. Students can contact the Director of Dining Services for more information and to work out the details of their dining plan.
Sack Lunches
Nutritional box meals will be provided for meal plan students with conflicts such as student teaching, athletics, unavoidable scheduling conflicts, College business and off campus for employment. Individuals must submit requests to the Dining Services Office giving a 24-hour notice before meal is to be picked up. All group requests must be submitted 72 hours in advance.
Sick Tray Service
Fresh Ideas will provide food, beverages and supplies to meal plan students who are confined due to illness or injury.
Bergsten Dining Hours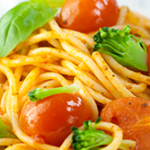 Monday-Friday
Breakfast 7:15 – 9:30am
Continental Breakfast 9:30 – 10:30am
Lunch 10:45am – 1:30pm
Deli, Pizza & Salad Bar 1:30 – 2:00pm
Dinner 4:30 – 7pm
Saturday & Sunday
Brunch 11am – 12:30pm
Dinner 5:30 – 6:30pm