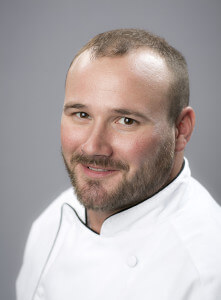 We sat down Chef Aaron Neale from Hannibal-LaGrange University to discuss the release of his cookbook Wild Game Recipes.
Chef Neale has always been a man of big and fresh ideas. It's what makes the Missouri native a standout chef at Hannibal LaGrange University, an invaluable member to the Fresh Ideas culinary staff and now a selling author of his popular, self-published cookbook, Wild Game Recipes.
An outdoorsman himself, Aaron uses his endless experiences of hunting and cooking wild game to develop his own tasty recipes, which have led to tremendous success.
"I've gotten a lot of positive feedback. It's a wild game cookbook, but it seems that people enjoy little humorous stories that go along with the recipes," says Aaron. "Sometimes I think people like reading the stories as much as they do my recipes."
Aaron's inspiration for the book derives from his past hunting experiences with his close friends and family. Growing up in the small town of Paris, Missouri, Aaron recalls some of his best recipes stemming from the tastes and foods of his youth.
"It was simple really. I wrote recipes that I remember from my childhood. I also talked with family and stole some ideas from my hunting buddies," laughs Aaron.
"It's funny, sometimes my hunting buddies think that they can cook. They'll tease me sometimes, but when they really need something done right or cooked well, they always come running to me."
Aaron says there will be future cookbooks to come after he develops more recipes (and stories) from his future hunting trips. Until then, order a copy of his book and learn how you can prepare your own amazing wild game recipes just in time for hunting season.