A Sweet Tradition
December 16, 2022
Tags
Every holiday season, the students and staff at William Jewell College walk into their dining hall to see one of Chef Jim's incredible gingerbread houses. The houses have become a cherished tradition for William Jewell and Fresh Ideas.
About twenty years ago, Chef Jim started doing what many of us do over the holiday season: decorate gingerbread houses with family and friends. As a chef, he enjoyed experimenting with various baking and decorating techniques. One year he entered his gingerbread house in a local competition and won first place. Afterward, Chef Jim started a yearly tradition of creating gingerbread houses. The houses are quite popular amongst his friends and family and throughout the William Jewell College dining program. In fact, he says as early as October, his colleagues and students check to see if he is making a gingerbread house again for Christmas.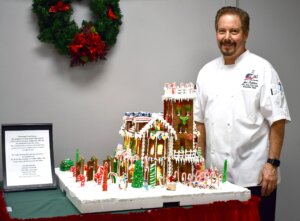 Over the years, Chef Jim has perfected his gingerbread recipe. After receiving a recipe from a local chef, he made some modifications to ensure it was hard enough to make a sturdy construction base for the houses. He has also learned the best icing recipe for assembling and decorating his gingerbread houses. According to Chef Jim, egg whites, powdered sugar, cream of tartar, and a little bit of water make the perfect "edible glue". He has also experimented with various types of candy decorations. One year he used "Big Red" chewing gum for the shingles on the roof. Some of his other favorite candy decorations include Necco wafers, cereal, cookies used as wreathes or roof tiles, and of course candy canes. He even uses round candies as lamp posts or, in this year's case, front porch pillars for the gingerbread house. Another one of his tricks is to use upside-down ice cream cones for Christmas trees and marshmallows covered in green frosting for bushes. Chef Jim ensures that every part of the gingerbread house is 100% edible.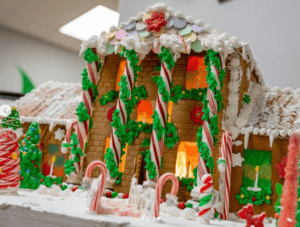 His signature stained-glass windows are probably one of the most remarkable and mesmerizing parts of Chef Jim's gingerbread houses. After his desired pattern is known and he's cut out the windows, he bakes the gingerbread for exactly 8 mins and 45 seconds. Then he adds gummy bears and gummy worms into the window frames and bakes them again for one minute and 15 seconds. The gummy candies melting together create the beautiful stained-glass window effect.
Another added effect is the lights that glow within each of his houses. The lights help the stained-glass windows pop even more. Chef Jim said the engineering school helped create a board with lights on each end that he builds his houses around each year. The construction and decoration of the house is a multiple-day process since it's important to let pieces harden and set in between decorating. Any one of his houses takes Chef Jim roughly 25-40 hours to build.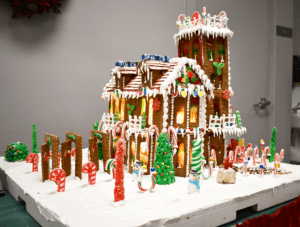 Along with his award-winning gingerbread houses, Chef Jim (CEC, ACE, CCA, AAC) has received many other culinary awards and honors over the years. He was recently inducted into The Chaine des Rotisseurs, the world's oldest and largest food and wine society. He also received the Mentor of The Year award from the Herndon Institute for Culinary Arts, home of the 2019 National ProStart Invitational Culinary Champions, and was named "Chef of the Year" in 2014 by the American Culinary Federation of Greater Kansas City Chef's Association. Chef Jim is also the judge of a popular Missouri culinary competition and an advisor on many local culinary boards. He believes in the importance of being a mentor to local aspiring high school chefs and sharing his love of food and cooking.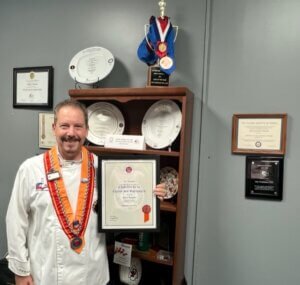 We are lucky to have talented culinarians like Chef Jim at Fresh Ideas. His creativity and passion for food and people define who we are and help create memorable fresh food experiences for his students and guests.