Going for the Copper: Copper Pot Culinary Competition
April 25, 2022
Tags
Celebrating talented culinarians is a cornerstone of who we are at Fresh Ideas. Every year we hold our annual Copper Pot Culinary Competition which is an opportunity for chefs and culinarians across our company to test their cooking chops against their peers.
The competition is comprised of three rounds. In the first round, chefs compose a meal that best represents their passion for food and cooking. There were a number of creative submissions, but ultimately only four contestants made it to the semifinals: Chef Mike Booth, Chef Eron Baker, Chef Brian Kempf, and Human Resources Manager, Samantha Jedlow.
In the semifinals, the contestants guided Matt Clervi, CEO and Owner, and Chef Carl Lovett, Vice President of Culinary, through instructions to recreate each of their recipe submissions via Zoom. You can check out the semifinals show here: 2022 Copper Pot Cook-Off Semifinals. 
The competition was fierce, but Chef Eron Baker and Samantha Jedlow made it through to the final round. Both were joined by their Fresh Ideas family and peers at Central Methodist University for the Copper Pot Finals. Neither had any idea what was in store for them. All they knew was they had a live head-to-head cooking competition ahead of them.
But, there was a twist.
The competition was "Crime Scene Kitchen" style, in honor of the television show by the same name. Before contestants arrived, Chef Joe Shirley, Director of Culinary at Fresh Ideas, cooked up a secret meal in the kitchen. He left only a few clues at the scene of the crime. Both contestants had an opportunity to investigate the crime scene kitchen separately, where they could piece the culinary clues together to try to figure out what Chef Joe made. Once they had their guess at the meal, it was their turn to recreate it. They were both given only one hour to recreate Chef Joe's mystery dish.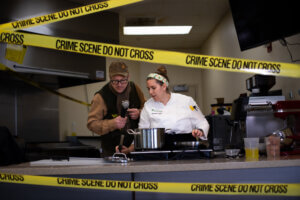 Spectators were able to take a look at the crime scene kitchen and put their own detective skills to the test and watch both chefs prepare their dishes side-by-side. Though their kitchens were next to each other, neither chef knew what the other was cooking.
Once the one-hour time limit expired, it was hands off the plates for Samantha and Chef Eron. Both chefs' meals were served to the judges' panel. The panel included Matt Clervi, Julee Sherman, CFO at Central Methodist University, Jake Jolley, General Manager at Ford Restaurant Supply, and Chef Beth Thompson, a Director of Dining Services and 2020 Copper Pot Finalist.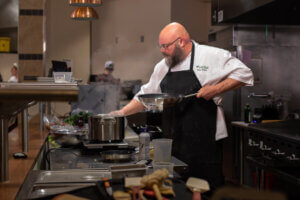 The judges tasted the dishes and talked to the contestants to ask them questions such as how they came to their conclusions for the mystery dish based on the clues left in the crime scene kitchen. Samantha prepared homemade ravioli stuffed with pancetta and cheese, with a dijon mustard Caesar salad. Chef Eron prepared a tagliatelle carbonara drizzled with infused basil oil and topped with a parmesan crisp. Their dishes were graded across three categories: their ability to draw conclusions based on their observations in the crime scene kitchen, presentation of their dish, and taste.
The results are in…
Chef Joe rolled out the mystery dish on a cart covered in lights and a layer of smoke.
The mystery dish was a tagliatelle carbonara with a dijon mustard Caesar salad topped with a parmesan crisp.
The winner is…
Samantha!
The competition was close, and neither contestant was able to recreate the exact mystery dish Chef Joe prepared. But Samantha's dish had both elements, and the flavors were accurate.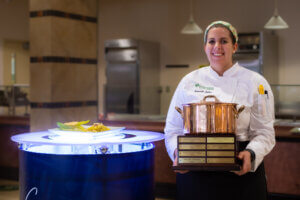 At Fresh Ideas, we celebrate our culinarians. Though it was indeed a fierce cooking competition, in the end, both contestants were excited to be surrounded by their Fresh Ideas family and participate in an annual culinary tradition.
Congratulations to Samantha who not only is a talented Human Resources Manager, but also a trained chef. The Copper Pot Culinary Competition is a unique and fun opportunity for chefs and culinarians to test their strengths against their peers. We thank all of this year's contestants, attendees, and our friends at Central Methodist University for hosting the finals.
Watch this year's Copper Pot Finals here
We'll see you at next year's competition!