Planting Seeds for Fresh Foods
June 7, 2023
Tags
Farm-to-table is a popular social movement that promotes using local ingredients to produce the food we consume at home, in restaurants, and inside our dining halls. At Fresh Ideas, we do not just talk about the latest food trends; instead, we put new and innovative food service practices to work when they benefit our guests, much like farm-to-table food production. One example of using hyper-local ingredients in our dining program is seen at Midland University.
Chef Shawn Dickensheets created a partnership with Midland University to create a garden on campus where fresh fruits and vegetables are grown for use in the dining hall. Together they have planted a variety of fruits and vegetables, including beets, radishes, peppers, zucchini, peas, spinach, tomatoes, cantaloupe, watermelon, pumpkins, and many more.
Beyond using the garden's ingredients to prepare delicious foods, Chef Shawn hopes to educate the students about the advantages of gardening. Gardening can be beneficial for mental health by reducing levels of stress and anxiety. While there is not currently a gardening club at Midland, Chef Shawn hopes that the dining hall's garden may inspire others to try out the hobby. He plans to show the entire process, from start to finish, of growing and harvesting to show how rewarding gardening can be.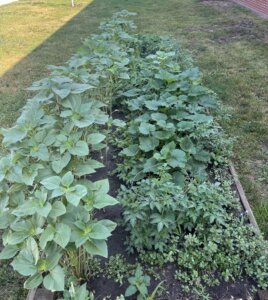 Gardening also provides fresh, delicious produce for cooking. Chef Shawn will teach cooking classes at the school and show students how to harvest  produce and prepare their own meals. Midland is situated in the heart of the Midwest, where there is abundant farmland. Prior to college, some students have not tried a wide variety of vegetables or ethnic cuisine. Chef Shawn and Midland's Director of Dining Services, Gren Rodricks, work together to create diverse menus that include a variety of fresh fruits and vegetables and international dishes to give students the opportunity to try something new.
In addition to the larger outdoor garden, the Midland team also has a hydroponic garden. These gardens use water-based mineral solutions rather than soil. Hydroponic gardens can grow indoors or outdoors and are perfect for growing herbs like cilantro and basil and various types of lettuce and kale. Chef Shawn  grows all kinds of herbs and vegetables for pizza toppings served at the dining hall. Additionally, the culinary team at Midland have special dining events planned to feature the produce grown in the garden.
The garden also helps reduce food waste on campus. The Midland dining team uses leftover food as compost to create soil for the garden. Currently, there are a few students volunteering to help with the garden and groundskeeping.
As the garden grows, more students and faculty start to notice and ask questions. In addition to the fruits and vegetables, Chef Shawn planted a variety of sunflowers,  which are sure to garner attention from those walking by on campus. Chef Shawn hopes that the 'growing' interest will lead to more appreciation and excitement for the garden for years to come.