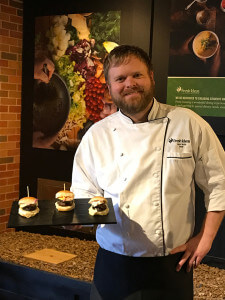 The secret behind the delicious meals being served at the Stephens College Dining Hall is not just the ingredients in the food, but also, where the food comes from. Now moving to locally sourced meat and produce, Stephens Sous Chef, Zachary Wells, says that students are enjoying the dining hall experience more than ever.
"The response of the students has been very positive to this new trend," says Wells. "We featured a slider burger station using local ground beef and it was an absolute hit. All of the meat served at the grill is now locally sourced."
The Fresh Ideas team made the switch to locally sourced foods after seeing the positive effect the local ingredients had on the health of students and the overall community. Stephens Dining is currently utilizing a handful of local companies such as Patchwork Farms and Show Me Farms, but Wells thinks that list could increase exponentially.
"So far, the students love it.," says Wells. "It will be fun to see the growth of our local sourced dining program."
Wells is confident that local meat and produce has etched its place in the future of Stephens dining. "Overall, my hope is to continue to develop this idea and find new exciting ways to use Missouri produce and meat in the dining program at Stephens College."