A Mission Beyond Food Service
March 23, 2022
Tags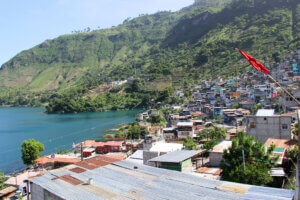 The landscape is stunning. Steep cliffs dotted with lush vegetation descend into a large, calm lake. The lifestyle here is relaxed and not hurried. The climate is temperate much of the year with harsh, cold winters – like those we're used to in the Midwest – simply a mystery, or an afterthought, to the people who call this corner of the world home. The location is the village of San Antonio Palopó in Guatemala, Central America. The contrast between the geographic beauty of this place and the poverty that afflicts the roughly twelve thousand people who call San Antonio Palopó home couldn't be more apparent. Most of the village's citizens don't have reliable shelter or even clean water. The lack of a formal education for people of all ages is disheartening. Most individuals and families cling to secure the most basic necessities; things most Americans take for granted in our largely comfortable day-to-day lives. The ability for citizens to educate themselves and earn a steady income is non-existent.
Our journey here is borne out of service. We're here to help build homes for two local families so at least one of life's basic necessities – shelter – is no longer a concern. We meet a single mother of two boys who walks 8 to 10 miles to work every day. Their smiles are infectious. They seemingly couldn't be happier even in a place where poverty is as constant as the year-round mild climate. The team of five who traveled from Columbia, Missouri is grateful to be with them, to help them and to play a small part in nudging this family to a better way of life.
Fresh Ideas is a company founded on service. Every day we serve guests delicious food and extend warm hospitality to those we are fortunate to call customers and colleagues. But our mission to serve extends beyond our kitchens and dining rooms. We are in San Antonio Palopó to offer our resources and time to help a family in need, and this mission trip exemplifies who we are as a company as well as anything else we do.
Remarkably, with the family's help, we built a new home in just over two days. A foundation was poured prior to our arrival which afforded us the opportunity to get to work framing the small home and laying a roof. Now, this loving family has a solid foundation from which they can live a bit more freely without worrying where they might seek shelter on any given day or night.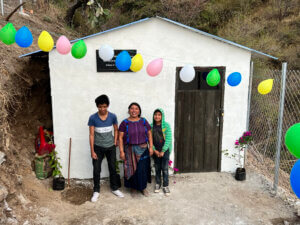 The beauty of San Antonio Palopó, Guatemala is even more apparent now. This won't be the last time a service-minded team from Fresh Ideas visits this place. This family, and the other villagers we met, are now a part of who we are and a reminder that our mission extends far beyond food service.
Matt Clervi is the CEO and Owner of Fresh Ideas Food Service Management. A driven entrepreneur, Matt is a civic-minded businessman and passionate about giving back to communities and improving the lives of those in need. As CEO, Matt guides Fresh Ideas through the implementation of innovative technology, value-added culinary trends, and industry-leading best practices. He also spearheads the development of creative outlets for Fresh Ideas to showcase its culinary talent.