Celebrating Women is Never Done
March 8, 2022
Tags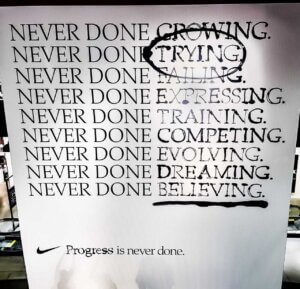 Never Done Growing
Never Done Trying
Never Done Failing
Never Done Expressing
Never Done Competing
Never Done Evolving
Never Done Dreaming
Never Done Believing
Progress is never done.
While visiting Las Vegas recently, I walked into a Nike store and immediately saw a large sign that captured my attention. The message displayed on the sign spoke to me on many levels and is especially resonate today as we celebrate International Women's Day.
On a personal and professional note, I'm always striving to do more, be stronger and make a difference in the world. The message on the Nike store sign provides inspiration to always strive to do and be better.
The message felt like a roadmap for successful women. A lot of women try to do everything for everyone and sometimes sacrifice themselves in the process. To achieve balance is important, and I'm fortunate I work at a company that includes balance as one of their six values.
Life is a journey and evolving includes trying, failing and training. Setting goals and asking for help along the way will help you achieve your goals. Find a mentor to coach you along the way.  Find a sponsor to connect you and promote your dreams. Build a network to enrich your life.
Remove barriers, change perceptions and challenge biases for women. #BreakTheBias Celebrate, support and sponsor the women in your life. Reaching out will be impactful to the women in your life.
Thank you to the women of Fresh Ideas for everything you do every day for our guests, clients and teammates. You make our company stronger and you are truly inspirational!
Dare to dream and believe in yourself as you can achieve anything in your future. Progress is never done.