Celebrating Diversity at Fresh Ideas
February 15, 2022
Tags
The foundation of Fresh Ideas rests on six values: creativity, balance, respect, openness, integrity, and diversity. The diversity of our teammates and the units we serve including K-12 schools, colleges and universities, senior living communities, and corporate campuses, enriches our company and allows us to be innovative and dynamic.
In honor of Black History Month and our teammates, we're sharing the stories of four exceptional individuals and how they demonstrate and live our company values. Ultimately, Fresh Ideas is only as strong as its people. The following people represent strength in character, drive, passion, work ethic, and so many other attributes that are reflected daily in our company's work and mission.
Sheronda
Sheronda grew up in St. Louis and as the oldest of six girls, she helped cook dinner and walk them to school. Sheronda remarked, "I always loved cooking and baking. When I was a little girl, my grandma took me into the kitchen and taught me how to make homemade dumplings, and I just developed a passion for food and cooking." Sheronda's favorite thing to cook at home? "Dessert. As a little girl, I used to get up and make muffins, sweet muffins, and cakes."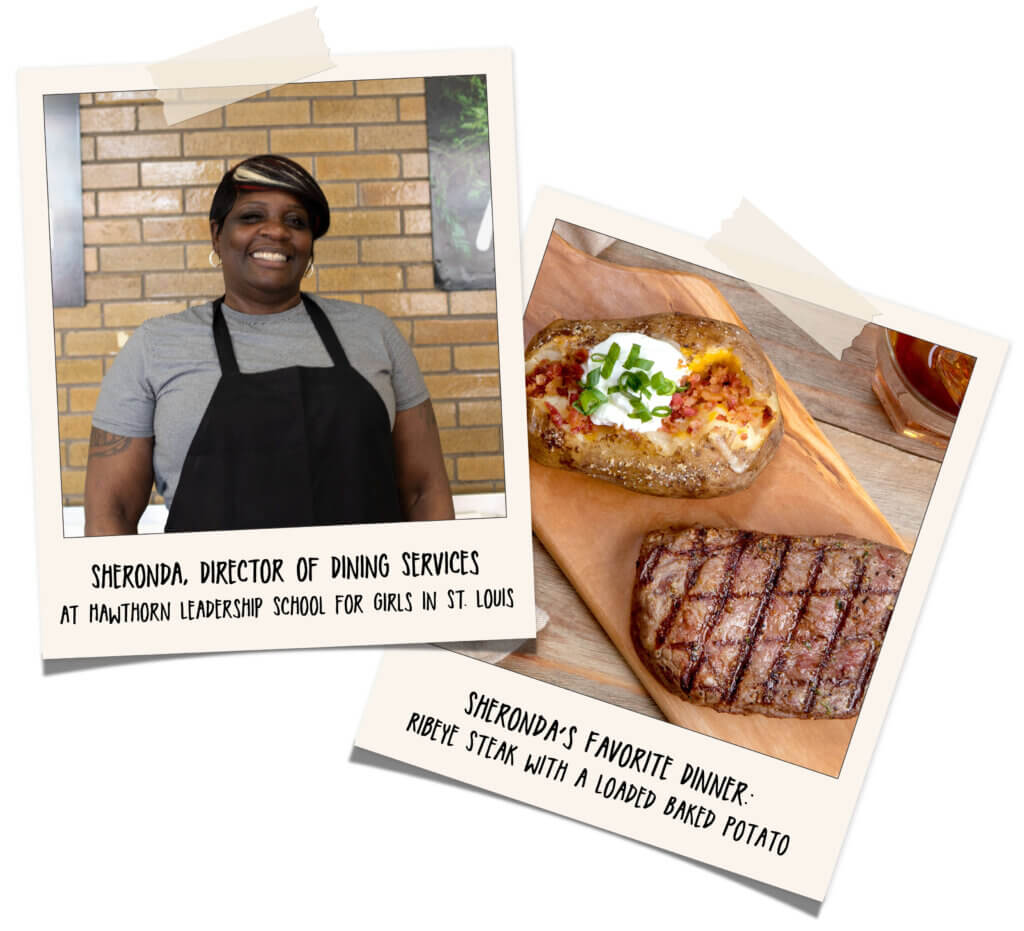 Sheronda carried her passion for cooking with her into adulthood and decided to attend culinary school. Afterward, she applied for a culinary school internship with Fresh Ideas. She performed administrative duties at a few schools early in her career and cooked as needed. Eventually, Sheronda was promoted to the Director of Dining Services at Hawthorn Leadership School for Girls in St. Louis.
When asked what she loved most about Fresh Ideas, Sheronda replied, "I love our leadership team, their love and their passion. One time I was ill and had to be out of work for two weeks. They just thought of me and how they could help me. I feel like we are a big family." Sheronda is not only a talented culinarian but also a busy of three children, including, two sons, and a daughter. After deciding to have her third child, she said Fresh Ideas helped her and supported her schedule.
She still enjoys cooking at home, too. One of her favorite dinners is a ribeye steak, with a baked potato, loaded with sour cream, bacon, lots of butter, and salt and pepper. And a nice big slice of cheesecake with whipped cream and strawberries on top for dessert.
Linda
Prior to joining Fresh Ideas, Linda managed a large catering operation for a healthcare system in St. Louis. With decades of experience executing events of all sizes, Linda was the ideal teammate to join our Fresh Ideas family.
Linda joined the company in a familiar role of catering manager. She was soon promoted to lead the dining team at Concordia Seminary. Throughout her over 10-year tenure at Fresh Ideas, Linda remarked that the authenticity of our company's values is the key reason why she loves working and leading in her current role.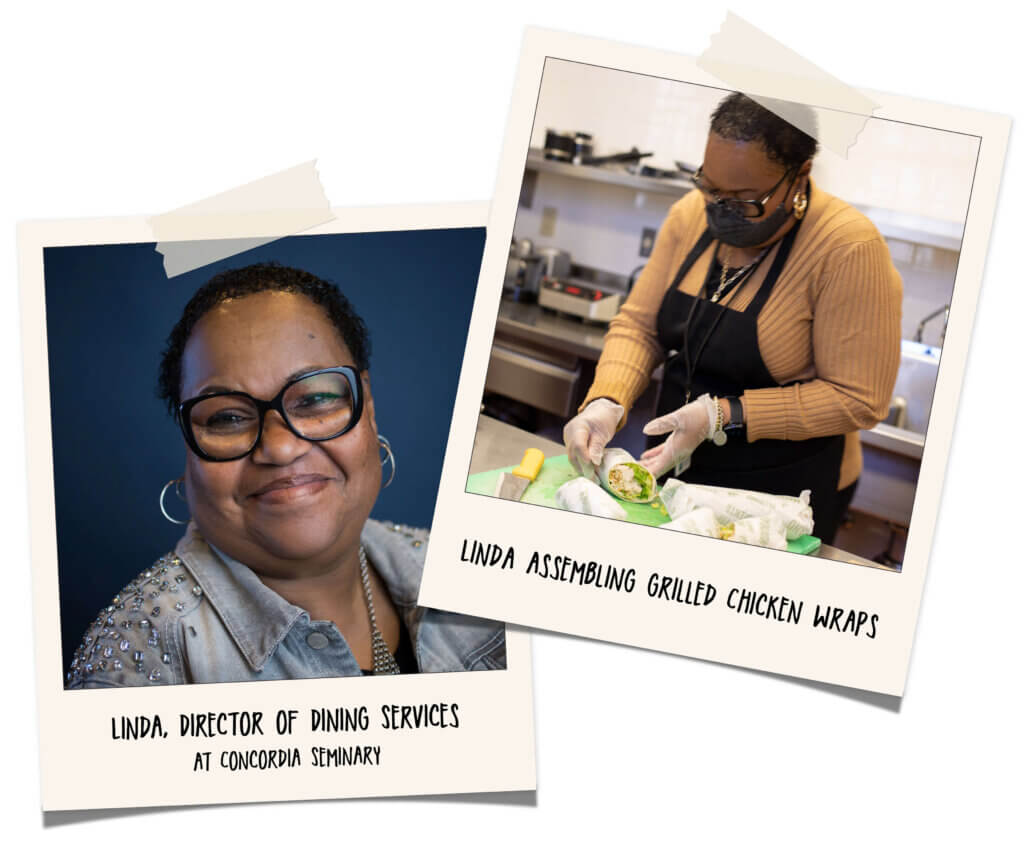 Creativity is incorporated into everything she does including engaging her team, catering presentations, special events for her guests, and leading regular safety meetings. Her team takes pride in their work and it shows as the account is always one of the highest-scoring teams on the monthly Fresh Eyes inspections. She also knows the power of making work and life fun, a lesson she passes on to her team and guests.
Linda leads a small but talented team at Concordia. Together they serve their students and staff daily and often greet each guest by their first name as if Linda's welcoming them into her home.
Chef Darryl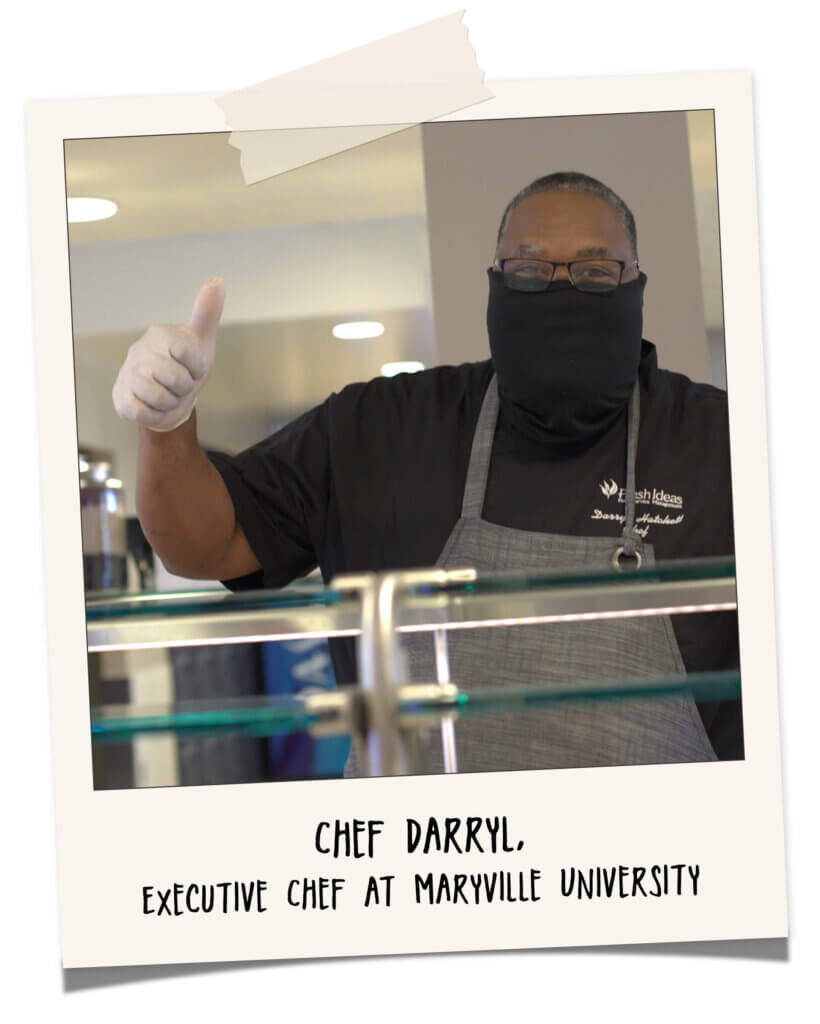 Chef Darryl grew up in Brooklyn, New York before moving to Missouri where he attended vocational school. At vocational school, he chose the culinary path. Chef Darryl says he chose culinary because "even with technology, nothing can take the place of food."
After vocational school, he became an Executive Chef at a country club for 20 years. After a while, he felt his role was becoming too "robotic" and he didn't have much creative freedom in his work or free time. Darryl sought a manageable work-life balance which led him to seek an opportunity at Fresh Ideas. He joined the culinary team at Maryville University and found exactly what he was looking for. "The reins had been lifted. Linda, the Director of Dining Services, pushes us to go do it. She gives you free rein to do the right thing."
Chef Darryl says he is constantly working with the staff to figure out what students want. "We change the menu every two weeks to make sure students don't feel like they're getting the same thing. That brings the joy back into it." He also works hard to empower the staff and make them feel comfortable. "My philosophy is, if you make a mistake trying, it's not really a mistake. If you mess up, that's just a learning curve."
Chef Darryl doesn't cook at home often but when he does, he likes to keep it simple. "I love pancakes. I love breakfast food. You give me pancakes, sausage, eggs, and potatoes." His favorite dish he says he still can't quite master; it's a recipe from his mother. "My favorite dish in the whole wide world I still can't make as an adult. It's a mashup she cooked of apples, sugar, butter, and cream of wheat and I can't recreate it."
Jessica
Jessica grew up in St. Louis. When she was younger, she would cook and eat together with her family. She comes from a large family, being the oldest of 10. She says, "we would sit down and talk about our day. No technology, just us conversing." Jessica made sure to continue this tradition with her son. With cooking, Jessica says she took it as more of an art.
Before being a culinarian, she was a musician. She eventually wants to fuse her love of music and culinary. Jessica attended Robert Morris University of Illinois (now known as Roosevelt University) where she received her Associate's Degree in Culinary Arts and Bachelor's Degree in Hospitality Management. She also managed a few restaurants in St. Louis before joining Fresh Ideas. Currently, Jessica is the manager at the Maryville University Starbucks. Outside of her work at Fresh Ideas, she is a driven entrepreneur, where she teaches virtual and in-person cooking classes.
Jessica refers to her team as her "little extended family." When she first started at Fresh Ideas, she managed the deli at Maryville University. Linda, the Director of Dining Services, recognized Jessica's leadership skills and offered her the opportunity to manage the campus Starbucks. Jessica was excited about the opportunity but knew she had her work cut out for her.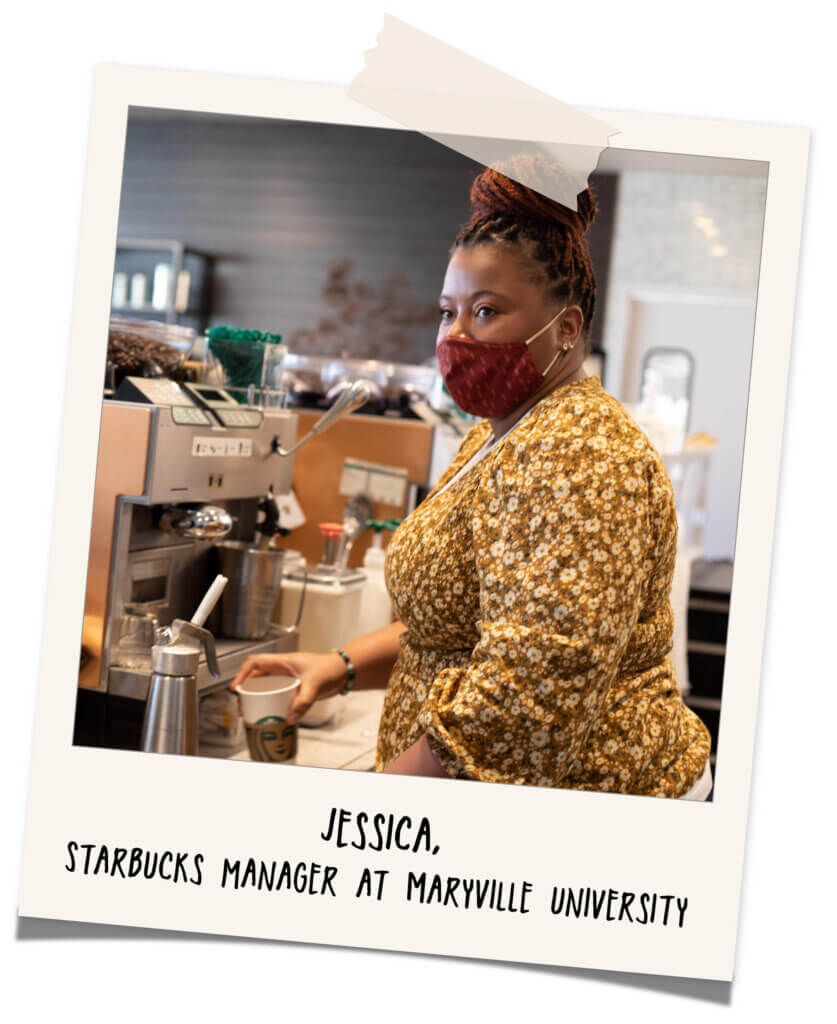 She had to learn the Starbucks "lingo," recipes, and more. She quickly became a strong leader for her team, but knew there was more to being a leader than just managing. Jessica remarked, "I have six international students and four students from other states. I know their obstacles. I like to teach them other life skills besides Starbucks. I believe communication is so important."
Jessica's future is undoubtedly bright. "I want to be the next Rachel Ray. I would love to do something like Rachel Ray or Emeril's thirty-minute segments in a St. Louis vibe. I want to make eating at home and cooking at home more of a habit for people."
Jessica's entrepreneurial spirit helps make her a great team leader at Fresh Ideas. "Fresh Ideas has given me that experience that I wanted that I didn't get in college. To be able to manage something and just having dynamic people to manage in these roles. "
People Make the Difference
These talented chefs and culinarians exhibit our values every day. They are strong leaders and role models for their teams. People make the difference at Fresh Ideas, and the more diverse we are – incorporating different perspectives and leadership styles- the better we're able to support one another.