Chef Appreciation Week 2023
September 26, 2023
Tags
We celebrated Chef Appreciation Week in September by showcasing our extraordinarily talented culinary team. At Fresh Ideas, we pride ourselves on creating an innovative fresh food experience. This includes a thoughtful approach to preparing fresh foods that are healthy, flavorful, and fun. Our chefs and cooks are passionate about food and are key to how we create happiness for our guests.
The following talented chefs and cooks exemplify Fresh Ideas' values and contribute to an engaging culinary experience.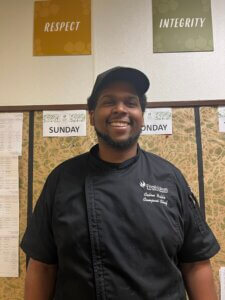 Chef Calon's passion for cooking began when he was just 8 years old, helping his mom out in the kitchen. He started working with Fresh Ideas as a student and eventually became a dishwasher, grill cook, and is now a campus chef.
Chef Calon learned under the mentorship of many Fresh Ideas chefs and culinarians. They helped him learn new cooking techniques and understand how to manage a kitchen. Chef Calon enjoys putting his creativity and passion into everything he cooks. "We're culinarians; we are artists."
Chef Calon's culinary philosophy can be summed up with the following remarks: "If [food] it isn't made with love, it isn't fit to serve.' 'Cooking is a labor of love. It is something you have to care about doing. It is nourishing someone. At the end of the day, they need this to live. To have parents, family, and students trust us to provide a delicious meal is a humbling experience."
Chef Calon's favorite dishes to cook include anything low and slow, like gumbos, stews, and pot roasts.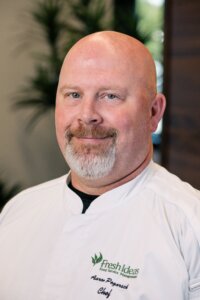 Like Calon, Aaron's passion for cooking started at home. He learned to cook with his mother and grandmother, and from there, he knew the culinary world was where he wanted to be. He worked various food service jobs as a teenager, eventually becoming a night cook and then enrolling in the Rouxbe culinary program through Fresh Ideas to become a chef.
Harnessing his culinary craft and mentorship under chefs and leaders at Fresh Ideas including Chef Jim Tinkham, Eron Baker, and Jaime Perez, Chef Aaron has become a rockstar chef at Fresh Ideas. He says he enjoys being able to use his culinary creativity as a chef. Chef Aaron says that his mentors at Fresh Ideas helped him understand the importance of using fresh ingredients and using the best cooking techniques. He also enjoys being able to take care of guests and serve them meals that bring them joy and comfort.
Chef Aaron's favorite culinary quote: "Prep for others as you would have them prep for you."
Chef Aaron's favorite dishes to cook are anything with bold, contrasting flavors.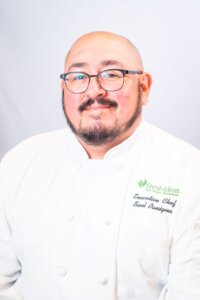 Chef Saul started his culinary journey working at casinos, resorts, and on cruise lines. He traveled the world, training and learning with international chefs. He has since made quite the name for himself in the culinary world, winning multiple state and national BBQ and grilling competitions. In 2022, Chef Saul even placed in the top 60 of 450 entries in the Steak Cookoff Association World Championship.
Saul's family also partakes in culinary competitions. His wife and his son compete in BBQ competitions, and his son won 1st place in a competition in 2022 for grilling pork chops.
Chef Saul's favorite dishes to cook are barbecue and Hispanic and Asian fusion foods.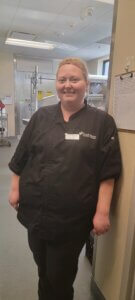 Liz began her culinary journey with Fresh Ideas as a night cook. She continued to train and learn under the mentorship of Fresh Ideas chefs and culinarians. She eventually became a day cook, sous chef, and then executive chef at Mid-Plains Community College. Liz enjoys working in food service because of the relationships she gets to build with guests and her dining team. She also enjoys getting to greet students each day and learn more about them.
Chef Liz's favorite dishes to cook include Asian dishes like General Tso's chicken, egg drop soup, and Mongolian beef.
Fresh Ideas culinarians are more than cooks, their efforts go beyond the plate creating amazing dishes that bring people together, create memories, and build community. Thank you to all our culinarians for keeping our campus communities fueled.