Fun, Games, and Good Food
November 2, 2023
Tags
At the heart of food service is people. At Fresh Ideas, we strive to make every guest feel at home. College campuses are unique communities and are meant to foster new friendships, promote learning, and provide comfort. The dining hall is an integral part of a school – a place for students to spend time together, study, and of course, eat. Our teams work to create a space where students feel welcome, can try new things, and meet new people.
How do we achieve this? By creating warm and inviting dining rooms, building relationships, and hosting special events for students. Anyone can serve food, but at Fresh Ideas, we provide a unique dining experience. We believe that food brings people together, builds relationships and creates fun memories. Here are some of the many ways our dining teams go the extra mile for our guests.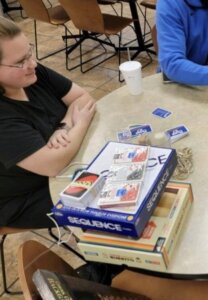 Jenny Young, Director of Dining Services at Williams Baptist University, hosts a variety of engaging events for students. She works with campus organizations to schedule events like game nights, especially when the campus athletics and activities calendars aren't busy. This gives students the opportunity to spend time together and socialize. Game night is a favorite amongst WBU students. The dining team provides board games, card games, and video games for students to play. Jenny and her team also offer fun games and activities when students are unable to leave campus during snow days so they still get the chance to get out of their residence halls and socialize with their peers. Not only is game night a great time, but the dining team enjoys the opportunity to get to know the students and continue building relationships.
These relationships are a cornerstone of who we are at Fresh Ideas. Jenny and the WBU team also host international meals and other special dining events on campus. They want everyone to feel included and represented in the dining program.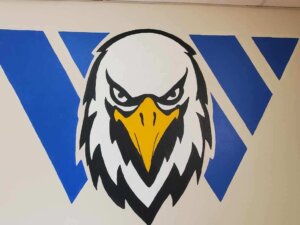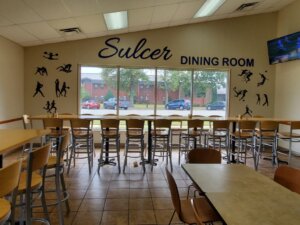 Jenny engages students at WBU by including them in creative projects to help make the dining hall look and feel welcoming. Recently, she realized a few blank walls inside the dining hall could serve as a student engagement opportunity through a fun, artistic project. She thought about how to decorate the space to make it feel more inviting so she reached out to the art department on campus and asked if students would help create a mural for the dining hall. The students were thrilled to help and together they created a mural that represents student-athletes, clubs, organizations, and more. The mural is now a cherished part of the dining program at WBU.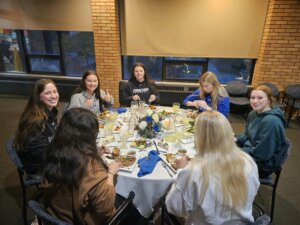 At Dakota Wesleyan University, Director of Dining Services Carl Plastow regularly hosts international meals and special events. He works with clubs and students on campus to ensure there is a meal to represent every home country of each international student attending DWU. Carl and his team work hard researching, sourcing ingredients, and preparing each dish. Their goal is to make the meal as reminiscent of the flavors of home as possible. The experience is very rewarding, and the thoughtfulness does not go unnoticed by guests. Students partner with the dining team at DWU and educate their peers about the foods from their home countries and their culture. Most recently, Carl and his team created a meal from Colombia, and they are excited for upcoming meals featuring dishes from Scotland, Sri Lanka, Wales, and Russia.
At Midland University, Director of Dining Services Gren Rodricks and his team enjoy hosting special dining activities as well. They use holidays, current events, and campus events to gather ideas. In October, for example, they featured dishes inspired by Oktoberfest. Throughout the month they served a variety of Bavarian-inspired dishes. In November, they'll not only have traditional Thanksgiving dishes, but also prepare other options like Jamaican jerk chicken, fried dumplings, and mofongo – a Puerto Rican dish made from plantains. Gren and his team at Midland strive to ensure all students feel included and have no shortage of delicious food to choose from every time they come to the dining hall.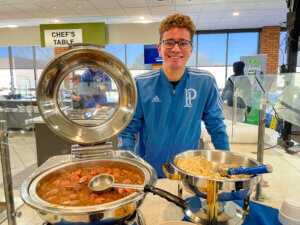 At Fresh Ideas, no dining location is the same. Each school has its own unique traditions, student population, customs, and preferences. However, what remains consistent at our dining locations is a passion for building relationships and getting to know students, faculty, and staff. We believe in creating memorable fresh food experiences for our guests. Whether that includes game nights, international meals, specialty dining events, or encouraging students to help decorate and make the dining space their own. We are proud of our dining teams and all that they do to provide a warm and welcoming environment for guests to enjoy a meal.