Dining Hall Remodel Through the Eyes of a Student
June 22, 2018
Tags
This is part one in a series following the remodel of dining facilities at Dakota Wesleyan University.
Food fuels us all to do the things we are passionate about. That is why Dakota Wesleyan University (DWU) students are so excited about the upcoming partnership with Fresh Ideas to bring our students great food to fuel their academics, athletics, and beyond. DWU is a small university located in Mitchell, South Dakota with just under 1,000 students. My name is Mckenna Rogers, and I am one of these students.  I am going to be a junior next year and am majoring in Digital Media & Design with minors in business and mathematics. I also am a part of the cross country and track teams, serve on the Student Ministry Council and worship team, work as a student ambassador giving tours and assisting our admissions staff, and completing an internship with a local business in Mitchell.  In my free time, I love taking pictures, looking at memes, listening to music, FaceTiming my mom, and making memories with friends.  I am an avid food lover too, so I am pumped about this partnership between Fresh Ideas and DWU.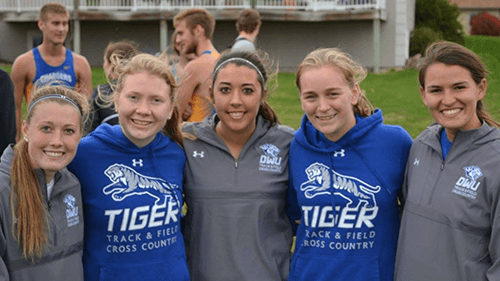 This spring at DWU, the school held an assembly announcing a new initiative called Digital DWU (a partnership with Apple to bring new technology and innovation into the classroom) and that we would be getting a new food service. There were many cheers for the facts that tuition would not be going up and that every student would receive an iPad, but there was a roar of applause for the new food service. With that, I think it's safe to say that DWU students are excited about and ready for this change.  In the last few months of school, you could still hear students talking about the new food service and speculating on what changes we would find on the menu.  We are all looking forward to these 'Fresh Ideas.'
The excitement only grew when students found out about renovations taking place in the cafeteria, (especially with the removal of some old carpet we had in there)! Those renovations are underway as we speak. So far, they are in the demo stage of the remodel and have taken out the carpet, ceiling tiles, serving area stations, windows, tables, and a dividing wall. I've been going in every week to keep up with the renovations, and they've made a lot of progress so far. You can find some photos showing what our cafeteria looked like this last year as well as some of the latest pictures of the renovation. Dakota Wesleyan is always looking for ways to improve the experience for their students, and we (the students) are pleased to be welcoming in Fresh Ideas as the latest improvement to DWU. I'll be following the progress and posting more updates on renovations and student reactions, so be on the lookout for those!
Stay up to date with DWU dining on their Facebook page.
Part two:
University Remodel to Include Premium Coffee Brand
Related:
New Food Service Provider Selected at Dakota Wesleyan University