Training for Meals
March 24, 2020
Tags
The Fresh Ideas Family Cooks Up A Program to Support Food Insecurity
Fresh Ideas is passionate about food insecurity.  As part of their 20th anniversary celebration, they announced a program in January to raise money for the growing problem of food insecurity in our country.  Training for Meals provides a donation for food insecurity for each course taken in the new online training system.
Over the past three months, the Fresh Ideas team exceeded expectations and has taken 3,500 training courses.  On behalf of the team, Fresh Ideas is proud to provide a $3,500 donation to The Food Bank of Central & Northeast Missouri.  Because The Food Bank is able to secure food at reduced costs, they are able to turn every dollar donated into $21 worth of groceries, multiplying the impact of Fresh Ideas gift.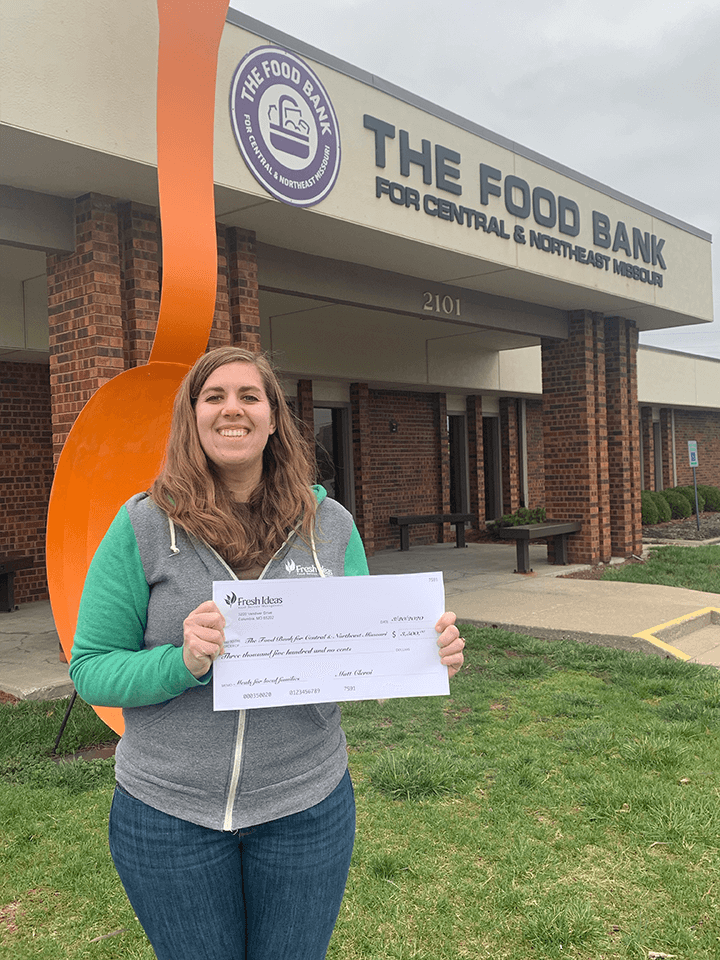 "Our teams are passionate about bettering themselves as well as the world.  The Training for Meals program not only accelerated the rollout of our new training program, it created excitement around the impact each person can make to the community." Kris Lensmeyer, Chief Innovation & Experience Officer, Fresh Ideas.
The timing of this donation is crucial with the uncertainty that the Coronavirus has caused the nation.
"As families across our community face new challenges, all of us have to work together to ensure people in need have access to food. The Food Bank thanks Fresh Ideas for being our partner in the effort to feed neighbors. Their gift will provide thousands of meals to local families."  The Food Bank President and CEO Lindsay Lopez.
Fresh Ideas encourages all businesses and individuals to join them in supporting The Food Bank in this time of increased need.  Many children depend on the meals they get from school which are now closed.  People are out of work as businesses are closing and don't know where they will get their next meal.
Food is a basic need that fuels not only our body, but our minds.  It will take all of us working together to get through these trying times.  How will you help?
Visit ShareFoodBringHope.org to learn how you can join the fight against hunger in central and northeast Missouri.