Going for the Copper
April 3, 2020
Tags
Fresh Ideas Chefs Compete for the Highest Culinary Prize
To challenge and showcase the culinary talent at Fresh Ideas, the annual Copper Pot Culinary Competition was held at the annual Adventure Awaits conference.
This was an opportunity for chefs to test their strength against the Fresh Ideas culinary muscle. Innovation and creativity are two driving forces of Fresh Ideas and were the guiding values of the competition.
In the first round, chefs composed a menu that best represented their passion for food and cooking. The chefs submitted an essay to describe and detail their menu as well as photos to show color, contrast, textures, knife skills, consistencies and composition. Sixteen chefs accepted the challenge and participated in the first round with several creative submissions.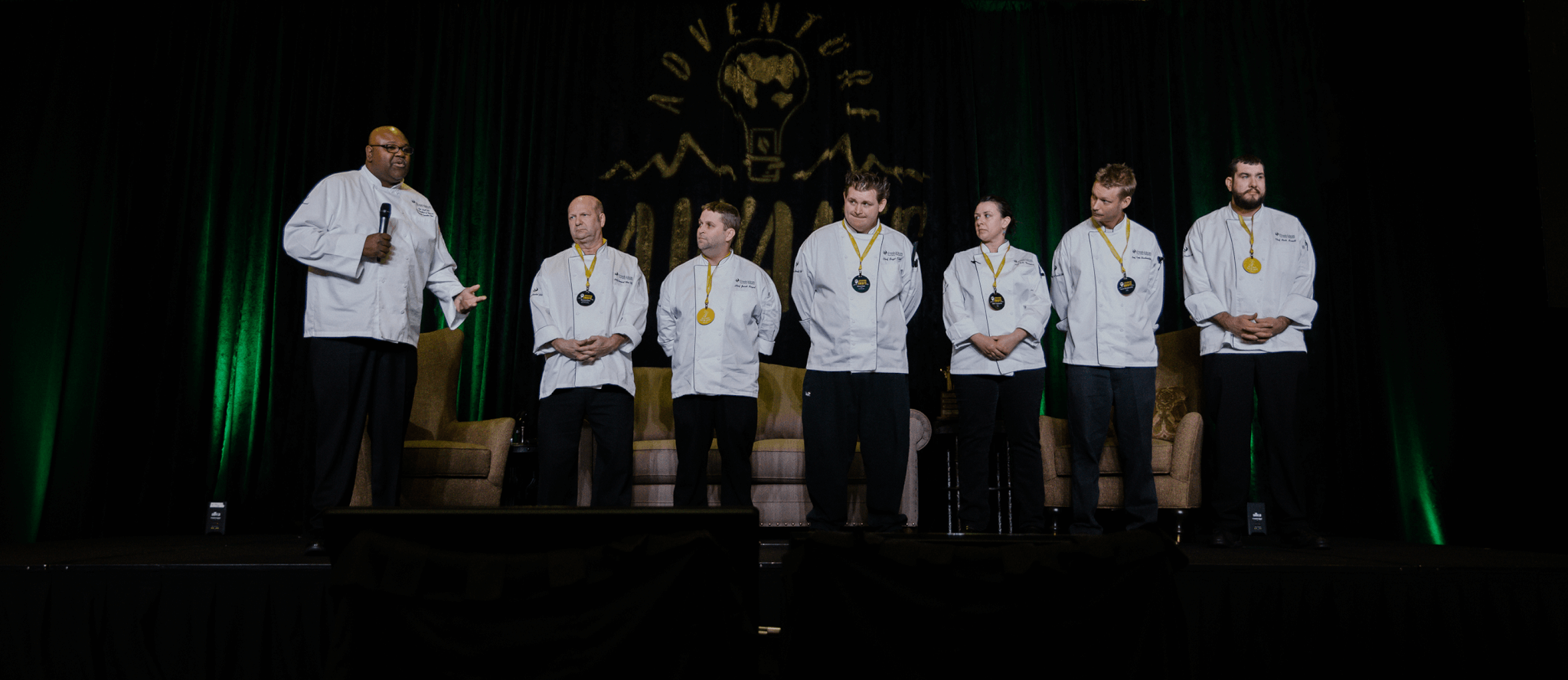 Six semi-finalists came to the conference early to participate in round two. They were challenged to create a dish with a secret ingredient – a whole duck. The results were amazing, beautiful and tasty. The judges had their work cut out for them.
Special guest and judge, Master Chef Ron DeSantis, added his expertise to the experience. "It was an opportunity to hear the perspectives and thoughts from a Master Chef who is looking through a lens from the highest ranks in our industry.  It was a real treat for all of us," says Chef Carl Lovett, Fresh Ideas Vice President of Culinary.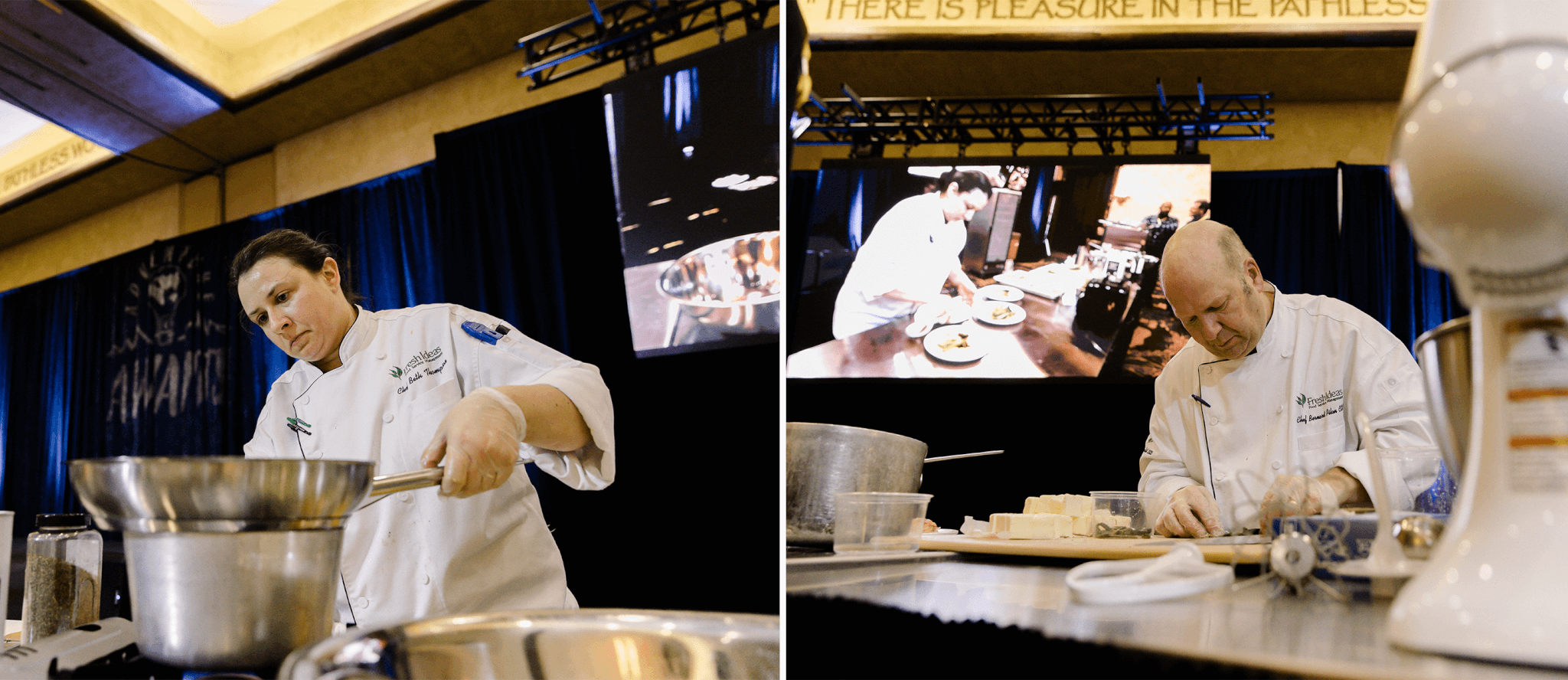 Chef Beth Thompson and Chef Bernard Pilon made it to the final round – a live competition on stage in front of the Fresh Ideas family.
"Each year brings a twist to the final competition. This year, the chefs had two secret ingredients – a live Maine lobster and European Sea Bass," said Chef Carl.
The chefs created two dishes in 1 hour 45 minutes with a limited pantry, a nice selection of fresh produce and the pressure of a live audience.
"The Copper Pot is a fun way to share your creative side with fellow chefs and foodies," commented Chef Beth Thompson. Her final round creations included a Cold Lobster Salad with a Cabernet Glaze and Creamy Turmeric Sauce and a Quinoa Pilaf with Zucchini Noodles and Roasted Sea Bass.
Chef Bernard's final round dishes included a Butter Poached Lobster Tail with Seasonal Vegetables and a Sea Bass Crudo with Citrus Vinaigrette, Brown Sugar Pineapple and Roasted Poblano and Pickled Vegetables.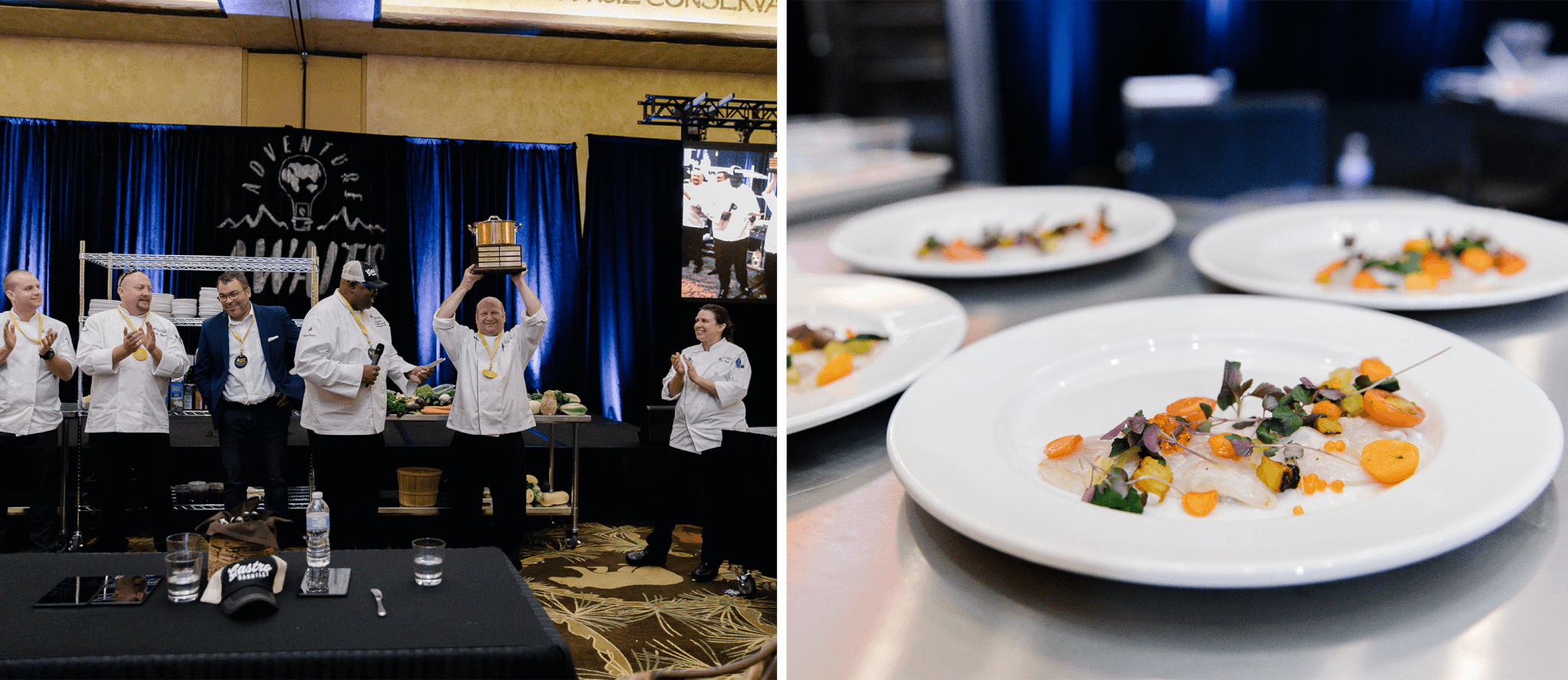 Thoughts from the 2020 Copper Pot Winner, Chef Bernard Pilon:
"The Culinary Arts for me are about celebration above all else.  Then it is about leadership as well as responsibility. I entered the culinary arts quite by chance. I have been lucky enough to have had a career that continues to flourish with the help of Fresh Ideas. The core values that Fresh Ideas sets forth is what attracted me to the company. I see  that the company not only talks the talk, but also walks the walk. 
 The Copper Pot and indeed all competition is new to me. I have never competed in my life. I must say the process was a little overwhelming and certainly nerve racking, but it does set in motion a process that taps into one's creativity as well as one's technique. 
"The Copper Pot is an extraordinary opportunity to challenge yourself." – Chef Bernard Pilon
Participating in a competition with your peers is challenging. The other chefs certainly made me step up my game. There was a lot of great camaraderie going on between us, and I had the best time getting to know the other chefs better. Kudos to all of them and especially to Beth who made the finals with me and is such a wonderful person and chef.
I am probably more humbled than anything to have participated and won this competition. It is very challenging and makes you dig deep.  You also learn a lot about yourself in a competition like this. 
The Copper Pot is an extraordinary opportunity to challenge yourself. I was of course elated, but also very relieved when it was all over. Honestly, what first came to mind when I heard my name being called was my wife, Stephanie, as she has always been my rock, my biggest fan and has put her faith in me.
All in all, as I reflect on the Copper Pot, all I can think of (and this is typical for a chef) is "How could I have made my dishes better?"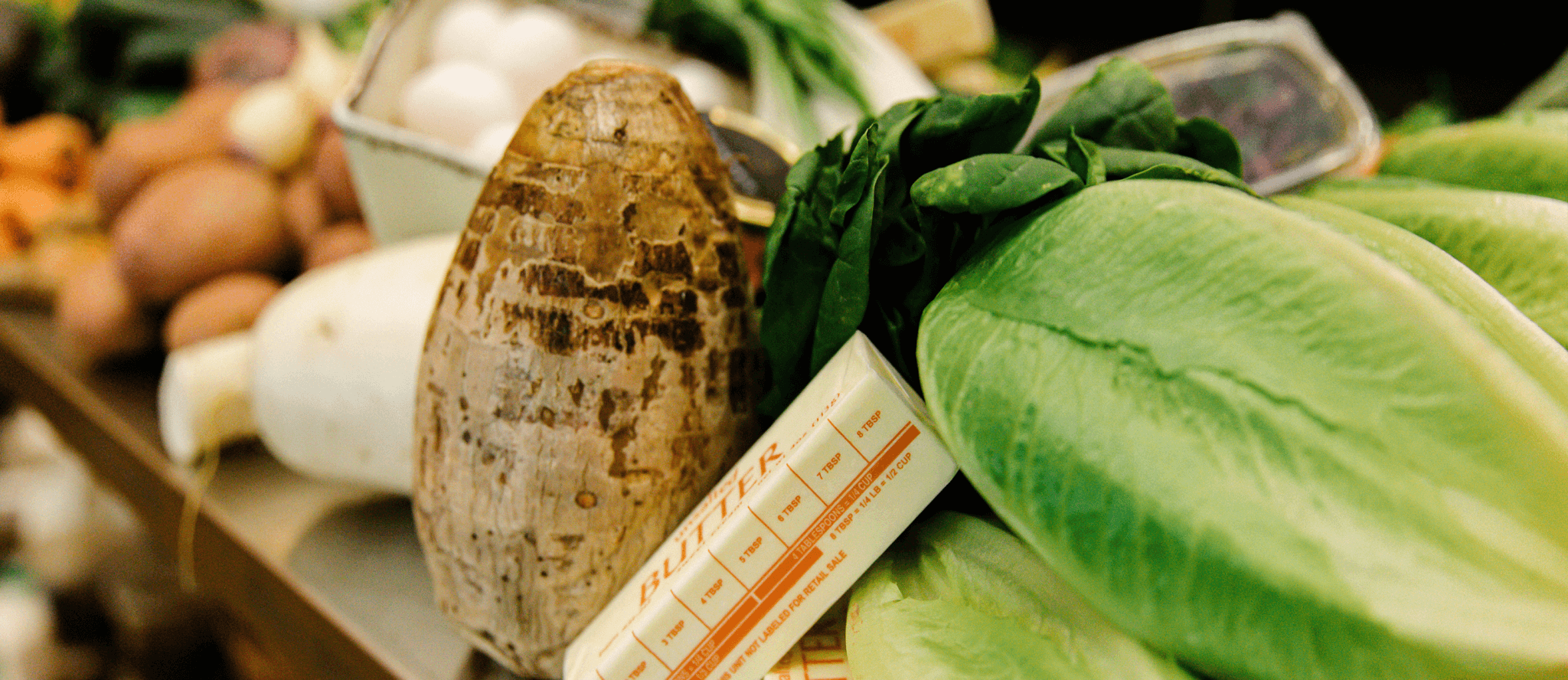 A very special thank you to the business partners that helped make the event happen. US Foods supplied the food pantry and produce for the competition, and Ford Restaurant Supply provided all of the kitchen equipment and small wares for the live competition.
"We couldn't have done it without our partners," says Chef Carl. "They helped us take the competition to the next level – watch out Iron Chef!"
As Chef Jose Andres said, "I always say that I don't believe I'm a chef. I try to be a storyteller." Our chefs told some great stories through their food in all rounds of the Copper Pot.
Congratulations to all the chefs that participated in the 2020 Copper Pot.
Video by Cosmic Sauce.