AC Culinary Arts Students Help Whip Up a Feast
September 21, 2018
Tags
This article originally appeared in the 
Hastings Tribune
 on September 11, 2018.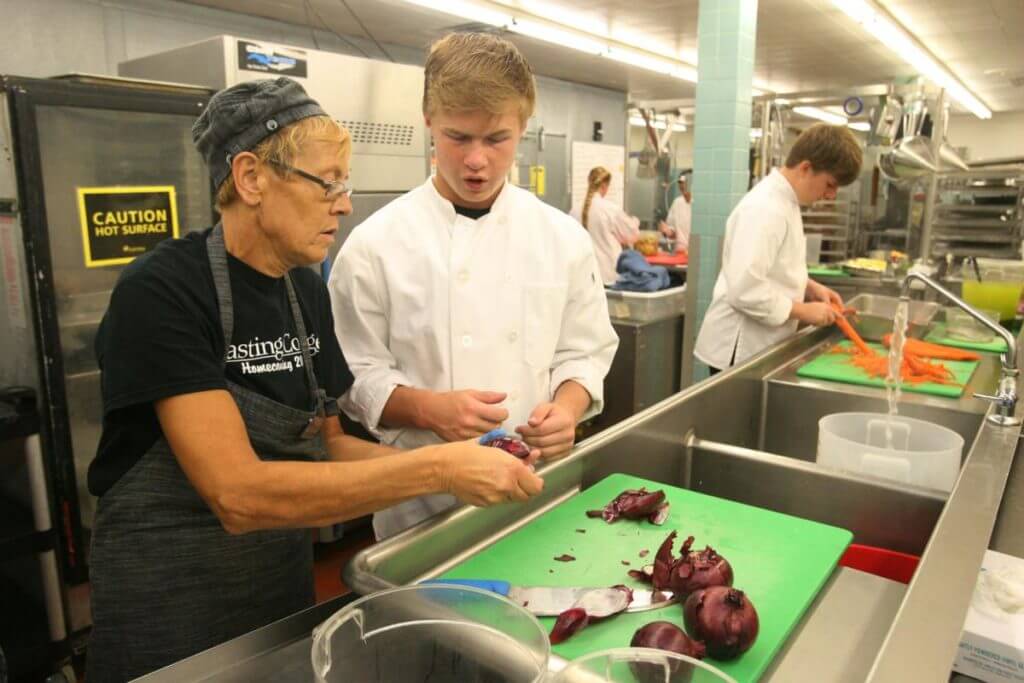 The industrial-size equipment and massive amounts of fresh fruits and vegetables were all a dose of reality for a group of culinary arts students Friday. More than a dozen juniors and seniors from the Adams Central culinary arts class spent more than half their school day Friday in an industrial kitchen peeling hard-boiled eggs, chopping heads of cabbage, frying sage, cutting carrots and baking cornbread muffins. "I didn't expect how much we did in such a short amount of time," said senior Daniel Wischmeier. The students worked from about 8 a.m. to 1 p.m. in the Fresh Ideas kitchen in the Hazelrigg Student Union at Hastings College as part of a collaborative effort.
The end goal was to prepare a four-course meal for nearly 100 people as part of the Farm to Table fundraiser for Prairie Loft Center for Outdoor and Agricultural Education. Chef Eron Baker, the director of dining services and chef with Fresh Ideas, said he was in need of some extra help with all of the prep work for the fresh farm-to-table meal. So he turned to Judy Hoch, a volunteer with Prairie Loft, who reached out to Kate Portenier, the family and consumer science teacher at Adams Central.
"Our school's motto being 'empowering the student and engaging the community,' this is the culmination and we're only two weeks into school," Portenier said. "I always want to jump on stuff like this because it gets them out in the real world." Prior to Friday's excursion, Portenier said maybe four of the 16 students present previously had been in or had exposure to an industrial kitchen. One of the biggest surprises was the sheer amount of food and the amount of work to be done in a short time.
"It never stops," Wischmeier said. "Before breakfast was over, we started getting lunch ready. It was moving really fast."
The students were working on food prep for the fundraiser while the Fresh Ideas staff was working side-by-side with them on the regular menu for the Hastings College students and staff. "It's amazing how much chaos goes on in the kitchen, but they're still working together as a team to put everything together," said senior Natalea Eigenberg. With the Adams Central students only two weeks into the school year, Portenier said, most had limited kitchen knowledge, so when Baker asked the students to do things like julienne carrots, they had no idea what he was asking. "Chef Baker is super patient," Portenier said. "If this had been December, it would have been way better for our kids, but they're just learning so many things."
Wischmeier said he learned a lot about knife work in a short time Friday but it was worth it. "I thought I knew more than I actually did when I went in there," he said. "He started asking if we knew what things were, and I had no idea. But it's been a lot of fun. I'm glad I did it." Wischmeier was charged with washing and chopping the fennel along with cutting potatoes.
Eigenberg spend her morning cutting heads of cabbage followed by peeling carrots. Baker said peeling carrots was an educational experience for the students who learned there are blades on both sides of a carrot peeler for a reason. "I figured out that when you're peeling a carrot with the peeler you can go both ways, not just one way," Eigenberg said.
One student was shocked to learn that as well while senior Emily Garcia laughed thinking everyone knew that. Garcia served as a baker Friday morning being charged with making corn bread from scratch. "We put all the ingredients in and mixed it," she said. "I've only done make-it-out-of-a-box type stuff, not from scratch."
One of the most eye-opening moments for the students was the number of eggs in the kitchen. "We cracked 25 eggs just for the batch of cornbread," Garcia said of the cornbread recipe for about 200 muffins. In all, there were more than 200 eggs used in the kitchen between the cornbread and the deviled eggs. Baker said the menu included a large deviled egg display with different flavors, sweet potato casserole skewers, braised pork belly and slow-roasted brisket.
All of the ingredients were secured from local farmers and ranchers by Prairie Loft director Amy Sandeen. The mulberries for the braised cabbage and mulberry slaw even came from the mulberry tree at Prairie Loft.
Baker said one unique thing is the use of sorghum in the place of pilaf for the pork. "We're using millet which is sorghum, shelled sorghum, so we're using that like a rice but it looks like quinoa," he said. "It's local, ancient grain, non-GMO." Portenier said she loved having her students exposed not only to an industrial kitchen experience but all of the fresh produce and what it takes to prepare fresh products on a large scale.
"I have these girls who have since 8:15 a.m. been peeling apples. They're still peeling apples and it's 11," she said. "I'm saying, 'How would you like to do this for eight hours a day?' They now have a better understanding of why some kitchens use canned food. It's crazy. Hopefully they have a new appreciation for food when they go somewhere."
Shay Burk is the Youth and Education Reporter for the Hastings Tribune.