Student Video Captures Dining Hall Remodel & Reactions
September 17, 2018
Tags
This is the final part in a series following the remodel of dining facilities at Dakota Wesleyan University (DWU).
Fresh Ideas dining at DWU has been up and running for a couple weeks now, and I am excited to officially say that the food, service, and overall quality are top notch. Students are walking away full and are loving how many options are available. The Tiger Cafe is a success as well. Students are enjoying their coffee, teas, and frappes to kickstart their early mornings, dragging afternoons, or night time study sessions.
The dining hall is always buzzing with students, and I've loved getting to interact with so many of my peers. My favorite parts of Fresh Ideas so far have been the Trattoria that always has pasta and pizza (the pizza is better than any chain I've had), the soft serve ice cream (which somehow is better than McDonald's soft serve), and most of all, the Culinary Expo station which features different freshly prepared foods such as stir-fry, burritos, wraps, and omelets just to name a few. I really appreciate the work that goes into to making all of the food. It is evident that the meals are prepared fresh and with care.
Students with busy schedules also have the option to use the Green & Go program that allows them to take healthy foods on the go in an eco-friendly container. That way they don't miss any meal of the day. Fresh Ideas also has an app called FreshX that students can use to check in, check their dining balances, see how many meals they have left, order coffee, and see the menu.
Check out the video above to see the dining space transform over the last couple of months into the awesome, interactive, innovative space it is now!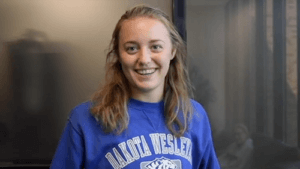 Mckenna Rogers is a junior at Dakota Wesleyan University learning about graphic and web design, business, and math. DWU is a private, liberal arts university associated with the Dakotas Conference of the United Methodist Church and located in Mitchell, SD. Rogers actively participates in track and student ministry council while working on campus, and as a sales and marketing intern at a local company.
You may also like: Dining Hall Remodel Through The Eyes of a Student