Our People are the Difference
February 24, 2021
Tags
At Fresh Ideas we celebrate people. Our teams of culinarians and food service professionals come to work each day ready to create a memorable experience for all. In honor of Black History Month and our talented teammates, we would like to share a few of their stories.  
Chef Lorenzo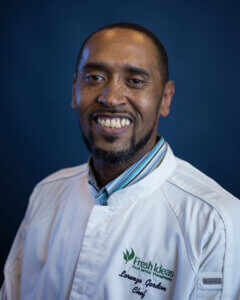 Growing up in East St. Louis, Illinois, Chef Lorenzo fell in love with food when he was 10 years old. He quickly discovered working with food was his passion that would continue to evolve and lead him to where he is today.
"My father passed away when I was young, and it was a struggle growing up in a single-parent household. While my mom worked, I started to cook; from pancakes to pasta bakes and fried foods of all kinds, I was drawn to cooking and loving the skills and care necessary to make delicious food," said Chef Lorenzo.
After high school, Chef Lorenzo joined the U.S. Army and enlisted as a Food Services Specialist which included tours of Germany, Italy, American-Samoa, Hawaii, and Texas. While traveling, he said he met accomplished cooks and chefs and honed his culinary skills.
Chef Lorenzo left the Army in 1994 and attended Le Chef College of Hospitality in Austin, Texas and earned an Associate's degree in Food and Beverage Management. In culinary school, he learned how to combine upscale cooking with mass production cooking techniques. And while cooking is his passion, he says that he finds the most joy in making people happy.
"Whether it's preparing a menu for an upscale event or helping a student on a strict diet realize food can still be delicious and healthy, I love to see how good food can put smiles on so many faces," says Chef Lorenzo.
Chef Lorenzo is a talented culinarian who exhibits pride and joy in everything he creates. He currently serves as a Traveling Support Chef for Fresh Ideas, cooking up delicious food across our various units. 
Chef Torvarous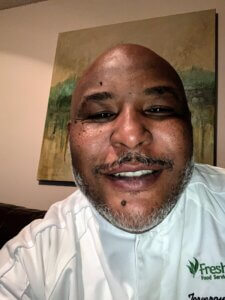 Born and raised in Memphis, Chef Torvarous was introduced to a wide variety of foods at an early age by his grandmother Willola & mother Jean. 
At an early age, Chef Torvarous loved to be in the kitchen but wasn't old enough to be a cook. Later on, Chef Torvarous met an acclaimed restauranter by the name of Chef Kahail, who gave him an opportunity to pursue a career in the culinary arts. 
After working as a prep cook and later on a lead cook, Chef Torvarous seized a new opportunity to work alongside Master Chef William Bashton at a new restaurant in Memphis, Tennessee. Thriving under Chef Bashton's tutelage, Chef Torvarous earned his first Executive Chef role at just 20 years old.
From there, Chef Torvarous continued to hone his culinary craft in Atlanta, Georgia where he graduated from Le Cordon Bleu with an associate's degree in culinary arts. Today, Chef Torvarous serves as a Traveling Support Chef at Fresh Ideas traveling throughout the Midwest leading teams of culinary professionals at several colleges and universities.
Chef Chris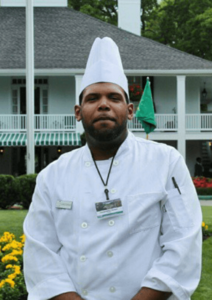 Chef Chris is a graduate of Johnson and Wales University in Charlotte, North Carolina, and Le Cordon Bleu College of Culinary Arts in Atlanta, Georgia.
After he completed his studies he continued to sharpen his culinary skills and gain more professional cooking experience. His passion and talent for cooking helped him win Food Network's "Cutthroat Kitchen." Chef Chris also worked for The Masters Golf Tournament as a Culinary Team member from 2015-2016. 
Chef Chris currently serves up delicious meals to the students of Peru State College in Peru, Nebraska where he is the Director of Dining Services for Fresh Ideas.
Calon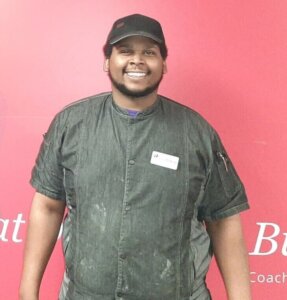 Calon is another talented culinarian at Fresh Ideas. Calon attended McPherson College where he also worked for Fresh Ideas through the student worker program. He graduated from McPherson with a physical education degree. 
After graduation, Calon joined Fresh Ideas as a full-time employee to follow his passion for the culinary arts. Calon is currently pursuing his culinary education in addition to his day-to-day responsibilities with Fresh Ideas. His goals include becoming a trained Chef and eventually manage and operate his very own kitchen.
A Celebration of Heritage, Culture, and Food. 
These chefs and culinarians exhibit our values every day by providing happiness through a fresh food experience. We celebrate not only their contributions to Fresh Ideas, but also the food they love to prepare and enjoy themselves. Check out Chef Lorenzo's "Who Made the Peach Cobbler" which is sure to impress, Chef Torvarous' delicious "Catfish Cadiana", or Chef Chris' incredible "New Orleans Drunken Catfish" below.
Recipes