Innovating Through Perseverance Amid the COVID-19 Pandemic
February 2, 2021
Tags
To say 2020 was a challenging year for many would be an understatement. The COVID-19 pandemic challenged corporations, small businesses, families, individuals, schools, students, and countless others around the world. The reason? COVID-19 presented sudden challenges that few had ever faced. As a food service provider, Fresh Ideas faced its fair share of challenges. Our supply chain partners experienced disruptions, colleges and universities shut down and sent students home and schools closed.
Despite all of these challenges, Fresh Ideas persevered. We rolled up our sleeves and continued providing excellent food service to our customers throughout the country. We refused to sacrifice quality despite the challenges we faced. Innovation has always been an important part of our culture, and this past year further proved this. We continued to advance our dining technologies, increase safety protocols, and collaborate with our clients to find the best solutions.  The Fresh Ideas team worked hard and truly came together. To put it in the words of one of our Directors of Dining Services: "We are Fresh Ideas, and we are a family. We take care of one another and those we serve."
The Beginning of a New Food Service Process
Last year started out like most others as our college and university dining teams served meals to students just like they've done throughout our 20-year history. Anticipation for spring break was predictably high, and we were looking forward to welcoming students back to campus after their mid-semester break. Upon their return, students heard rumors of COVID-19. No one really knew what it was, but it sounded serious. Spring break was extended, but it was still too late to make any major decisions.
Regional Director of Operations, Brian Dittmer, recalled one of the moments he realized just how serious COVID-19 had become while at one of his schools, William Woods University. Dittmer said, "It was a Tuesday at 10 pm and there was an active case. The next day we went from normal service to delivering food to 396 kids across 17 locations." William Woods needed all-hands-on-deck for this delivery. "We called in some people and set up shop nearby at Westminster College to make several hundred bagged lunches. We ordered pizza for the group. We had to iron out the delivery process and work with our supplier, U.S Foods, to get more items that students could make themselves in their rooms and have more comfort items to make their lives easier," said Dittmer. The team at William Woods was able to successfully prepare and deliver these meals, but it was only the beginning of a new food service process and protocol for their college and many others.
The Fresh Ideas team overcame one obstacle after another, but there were many more to come. Charles Rehm, the Director of Dining Services at William Woods was tasked with reinventing what the dining hall would look like for the fall semester. He came up with innovative ideas that met the demands of students while keeping them safe and meeting guidelines. These guidelines came from the CDC, our Fresh Ideas "Fresh Eyes" Safety Team, and William Woods University. The school had strict guidelines that remained the same for the dining hall. These guidelines limited the number of students allowed in the dining hall at once, causing seating to go from 300 to 56 seats. Everyone had to get their food quickly and exit the dining hall.
Using Technology to Identify Needs and Exceed Expectations
These unavoidable protocols led to one of the most successful solutions our team implemented as a result of the pandemic; that solution is aptly named Text for Food. This tool allows diners to text "I'm hungry" to an automated number which responds with prompts allowing them to place an order for pick-up or delivery. Text for Food was most often used in a dining hall setting, but it was not necessarily designed for use in retail environments. Rehm challenged Fresh Ideas' IT department to redesign parts of the app. The hard work paid off, and the satisfaction rate from students and staff is now higher than it has ever been with help from Text for Food.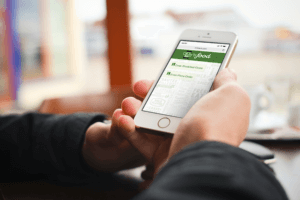 Text for Food is a popular and wildly successful form of technology that helps many of our customers. Another popular solution is mobile ordering apps. These apps helped students pre-order meals by viewing menus and ordering for mobile pick-up or delivery. At Maryville University, Linda Thacker, Director of Dining Services, recalls her experience with COVID-19 and using these technologies. Thacker noted how they helped the staff and students communicate effectively and efficiently. The dining team created a Ghost Kitchen consisting of students using a mobile app to order their food and pick it up at a scheduled time. Students could also personalize their food and choose from new dining concepts including Tex-Mex, sushi, and BBQ. All of Maryville's food service locations, including Gander Dining Hall, Louie's Café', and Starbucks now use mobile pick-up as their sole form of food ordering. Students and staff alike enjoy these technologies because they allow for safer food ordering, handling, and serving. One of the biggest advantages of mobile ordering is that students are able to schedule their meal pick-up times and avoid unnecessary congregating. Mobile ordering also offers delivery as another option for safe, contactless dining.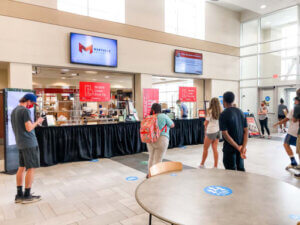 Despite significant changes to ordering and pick-up processes, Fresh Ideas and the Maryville team worked hard to provide students with delicious meals and special pop-up events. These carefully coordinated events followed all necessary guidelines and precautions to ensure the safety of students and staff. An example is Maryville's Chick-fil-A pop-up nights. Students could safely enjoy chicken sandwiches and waffle fries from one of their favorite food chains by using mobile order pick-up.
Chick-fil-A is a popular food option at many Fresh Ideas units, amongst all ages. At a K-12 school, the Fresh Ideas staff had to quarantine at one point, but that did not stop them from providing delicious meals for their students. A new team of employees came together to substitute for those quarantined and Chick-fil-A was provided for students as an interim meal between teams. The Fresh Ideas employees at the school worked together as a team and with the school to find a safe solution.
Client-Focused and Goal-Driven
Every customer is unique and Fresh Ideas takes time to collaborate with each of them to find the best food service solutions. Missouri Valley College (MVC), for example, has a large athletic community, that relies on a different variety of meal options. Dittmer said that when they switched to a pick-up line container where students could choose their meals to-go, they had to adapt and get creative to best serve the student-athletes. William Woods set a good example for MVC and many other customers, who ended up using similar solutions.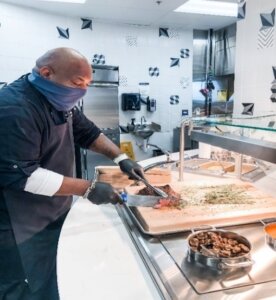 Dittmer explained what sets Fresh Ideas apart saying, "We are innovative and creative when solving a problem and helping a client, whether it's with catering or schools. Empathy played a big part in this. Everyone on the team tried to put themselves in the shoes of the students who were quarantined for 14 days being stuck in their room. Food plays a huge part in boredom when you're stuck in a room. For a lot of our accounts, it was a partnership between us and the clients. There were different people being assigned tasks. Coaches and assistant coaches were doing deliveries because they were shut down." Dittmer commended the teamwork and dedication shown by employees throughout COVID-19.
When asked about how Fresh Ideas came together to provide safe food service, Dittmer said, "There was a task force in charge of temperature checks and sanitation. It was a huge collaborative effort. We were taking things that we learned in spring and summer to figure out how to reopen safely in the fall." According to Dittmer, "We put solutions together so we would not have to compromise our food and our service. As a company, we have done a phenomenal job in handling this."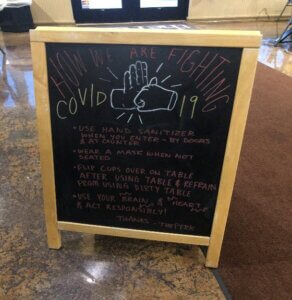 Dittmer was part of another exciting partnership between Fresh Ideas and the Boy Scouts of America at Camp Bartle in Southwest Missouri. When the COVID-19 pandemic erupted, Fresh Ideas quickly began educating themselves and their employees. We worked side-by-side with clients, including Camp Bartle, to continue dining services in safe and sanitary environments. Some of the protocols that were put into place included: temperature checks for every employee upon arrival (twice daily if they worked a split shift), wellness questionnaires, enhanced sanitation measures, a zero-tolerance mask requirement, increased handwashing, increased glove changing, and social distancing. The Fresh Ideas team at Camp Bartle divided production responsibilities into two of the three kitchens onsite which allowed for workstations that adhered to a socially distanced work atmosphere. All employees were also required to take a virtual ServSafe COVID-19 training course before working at Camp Bartle and had to review and agree to all COVID-19 policies and procedures. Our Fresh Eyes Safety Team also performed periodic safety and sanitation audits throughout the summer at the camp. These safety audits and reports occurred at all units as well and are very important to the company in order to maintain a safe and sanitary dining experience and work environment.
Camp Bartle's dining operations were designed to be safe and efficient for employees and campers alike. The open-air kitchen was helpful with providing a strong airflow, and there was a barrier between the staff and campers assigned to wash dishes. Fresh Ideas also purchased lightweight, highly efficient hot boxes to safely transport food items to the entire campsite. Food was portioned for each individual camp and transported in foil containers inside the hot boxes. The food was always temperature checked prior to leaving the kitchen and then again when it arrived at the campsite. No detail went unnoticed, including performing multiple trial runs with flatbed trailers used for delivery to account for road issues, timelines, and more. A small percentage of back up food items were rationed in case something was to happen (a container was dropped, split pan), and each hot box was disinfected between deliveries. The hard work and dedication by the Fresh Ideas team and campers allowed for no necessary quarantining at Camp Bartle. Fresh Ideas was able to serve safe, efficient, and delicious meals throughout the entire summer.
Creativity Meets Customer Service 
Another Fresh Ideas partner account, Park University, took a creative approach to handle the challenges from COVID-19. Chef Chandra, or should we say, "Captain Spice", hosted a virtual cooking class via Zoom for students. Fresh Ideas partnered with student life in an effort to continue student engagement on campus. "We decided the best way to do so would be to have a live cooking demo that shows students how to make certain dishes in their own residence halls. Knowing the only equipment they have is a microwave and a coffee mug, it makes our options that much more difficult," said Chef Chandra. Scrambled eggs, macaroni and cheese, and brownies were all demonstrated on the cooking show. Chef Chandra was excited about the unique opportunity to showcase her cooking skills while helping students saying, "I honestly never thought that this would be something I would be doing. A cooking show in a microwave? But hey, times have changed, and if this is what we have to do to keep our students engaged I am on board." The students and staff all enjoyed the demo and appreciated "Captain Spice" and all of her enthusiasm for cooking.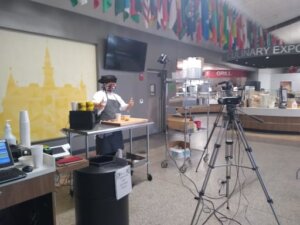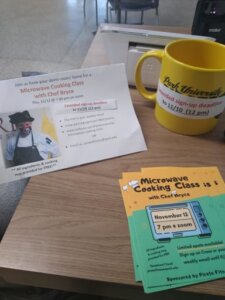 Meanwhile, at McPherson College, Director of Dining Services Jaime Perez was tasked with finding solutions to their COVID challenges. Perez noted how approachable and personable his dining team is at McPherson. These qualities are important for providing high-quality food service, but, ironically, also acted as a hindrance with the newly enforced safety precautions. When asked what the most difficult part of COVID-19 was, Perez replied, "Training employees. Anything new takes a little while to get it together. I have used this word a lot: empathy. Our staff is going to forget that we don't want you to spend too much time talking to them or standing at the register. We have to put ourselves in their shoes, that cashier enjoys this job she gets to speak to 400 students that she knows by name. I have to say, 'I know, I hate this too but we have to do this to keep us safe.'"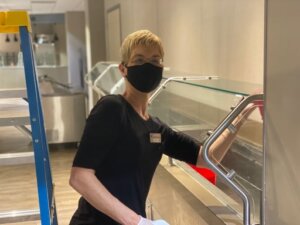 Perez's team at McPherson truly encompasses the Fresh Ideas values. They know that food is a powerful thing. When discussing his dining team's service approach Perez said, "Every food service is an opportunity to create a relationship and I believe food creates relationships. Most of my students know who I am by name or I will talk to them and be very available. Whenever you can, get ahead of any issues, wants, needs, and ask them how they are. You can pull up a chair and ask what was that? What's up? What's going on? So, I can fix things. I want my chefs and cooks to be proud enough to walk up and talk to them about it. If you aren't comfortable standing behind your product then you shouldn't be serving it." Perez has a strong, dedicated team that cares about each student. One of the bakers takes the time to ask how the students liked their previous desserts. She even tells them she is making pies and asks what kind of pies they would like. This creates an added personal touch, as students get excited to see that the baker made their favorite pie the next day.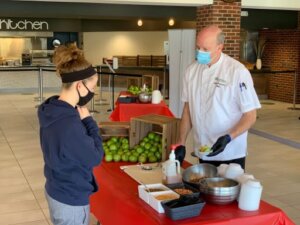 Linda Thacker at Maryville took the time to personally email each of the thirty students that were quarantined in November when they had their special Thanksgiving mobile order pick-up dinner. Maryville usually hosts a Thanksgiving feast, but the pandemic forced them to adapt. To ensure the safety of students and staff, dinner was pick-up only. The students did, however, receive delicious meals filled with turkey, mashed potatoes, dressing, rolls, vegetables, and a personal mini pumpkin pie for dessert. Thacker knew that quarantined students wouldn't be able to pick up their meals so she reached out to ask if they wanted dinner delivered and checked to see if there was anything else they needed. Following this year's modified Thanksgiving dinner, Thacker and the dining team received praise from students for their efforts, even down to the small details. Thacker made sure to order special "Happy Thanksgiving" stickers to go on the to-go pick up bags, and the students noticed and loved it.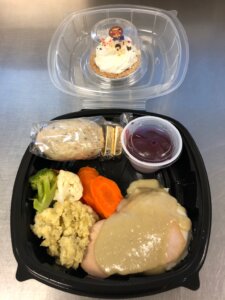 We think Differently. We Create Connections.
Empathy and understanding were reoccurring themes amongst directors and our teams while managing the COVID-19 pandemic. Each of them realized how comforting food is for their students and staff and know how important their role is as the food service provider. Many directors took the time to ask students if they wanted any additional items or foods to help them feel more comfortable and brighten their day during those tough times. That is the Fresh Ideas Way; knowing and serving people are what matter most. As individual units and as a company, Fresh Ideas did what we do best: provided an innovative and delicious dining experience.