Fresh Ideas Food Automation – Introducing the Pizza Robot
July 11, 2022
Tags
Fresh Ideas deployed the first-ever Pizza Robot earlier this year on a U.S. college-university campus. The xPizza Cube, which produces between 100-300 pizzas every hour, was unveiled at Missouri Valley College in May and the institution's students have become the earliest beneficiaries of its delicious pizzas. I suppose you could say it was history in the baking.
There's no doubt that automation in the food production industry is on the rise, and it's certainly something we feel passionately about at Fresh Ideas. With that in mind, let's discuss some of the key benefits associated with the implementation of technologies like the pizza robot.
How do we enhance the customer experience through food production automation?
A whopping 98% of Americans eat pizza, and 54% will go as far as to say they love pizza. With these statistics in mind, we had a hunch the pizza robot would be a welcome addition to our campus dining services program. That said, automation in food production is about so much more than finding an efficient way to provide people with the food they enjoy.
Robots ought to be regarded as a tool designed to augment the role of the human employee, not to replace them. At Fresh Ideas, we forever strive to enhance the customer experience, be it through excellent customer service or finding ways to personalize more of our offerings. By investing in food production automation, our team has time to engage meaningfully with our customers, learn about their preferences, and customize our service offerings. We work with schools, colleges, senior living communities, and corporations, which means our team members often see the same people on a day-to-day basis. We want to make sure these guests are cared for like family.
Let's return to the pizza robot to better illustrate this point.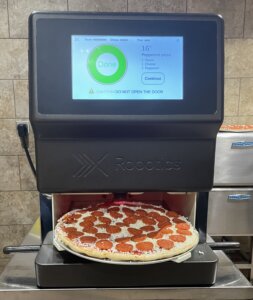 It's lunchtime. Dozens of Missouri Valley College students are streaming into the dining hall hoping to get a slice of the action. The robot will be doing its thing; producing perfectly proportioned pizzas for the masses while our team members spend time chatting with the students, getting to know their likes and dislikes, and preparing to top off their pizzas with a certain "je ne sais quoi". Research shows that Pepperoni is the pizza topping of choice for around two-thirds of Americans, but there will be those who prefer a vegetarian option, a drizzle of hot sauce, a handful of extra cheese, or perhaps most controversially, a smattering of pineapple. Our team members are the ones making sure this all goes to plan, "the crustodians", if you will.
Providing excellent customer service is our top priority, but there are numerous other benefits to automation in food production.
1. Health and safety
Automating certain elements of the food production process can improve health and safety standards for both the customer and employee. A robot, for example, might take on the task of operating heavy or dangerous machinery.
In the case of the pizza robot, all ingredients are stored in, and dispensed from, a cabinet that sits above the robot itself. The fresh ingredients are refrigerated and well-insulated, offering protection from the airborne contaminants you would typically find in an open kitchen.
2. Quality
Consistency is key in the food services industry and technologies like the pizza robot enable us to deliver high-quality products time and again. The robot can adapt to different customer preferences, such as using any type of shredded or diced cheese and sauce, ensuring that each pizza will be of the same high standard.
3. Food Waste
Food waste is a massive problem in the food services industry, and something we are working hard to combat. Unlike many food production robots, we've designed the pizza robot to eliminate food waste. For each item, the precise amount of ingredients are weighed out and dispensed for each pizza.
4. Convenience
You'd expect a piece of industrial kitchen equipment that can churn out hundreds of units every hour to be pretty sizeable. But we're big believers that the latest and greatest innovations in food production automation should be compact and convenient. \
The xPizza Cube is small, easy to assemble and use, and can be moved around as needed, whether to the corner of a kitchen or a storefront. The robot is super flexible and intuitive to operate making it a great addition to dining operations.