Smokin' Out the Competition
June 16, 2022
Tags
Few people can say they have grilled one of the best steaks in the world. But Chef Saul Paniagua can. In March, Chef Saul attended the Steak Cookoff Association World Championship in Ft. Worth, Texas, where he placed in the top 60 out of 450 entries.
The competition judges hundreds of cooks on their ability to grill the perfect ribeye steak. Each steak is between 14 and 18 ounces and contestants enter a lottery to determine who gets to choose theirs first. The competition stipulates that the contestants can't use garnishes or sauces to finish their steaks. They may, however, use seasonings and rubs.
Saul competes on a grilling team called "Dead Bird BBQ" and uses a PK Grill during his competitions. "The competitive spirit and camaraderie at each event are really special. Being part of a community that is highly skilled and talented fuels my passion for grilling and motivates me to excel."
A panel of judges scrutinizes the steaks for grill marks, texture, balanced seasoning, and overall taste to determine the winners. Ironically, Chef Saul doesn't eat much steak these days. However, he still enjoys going toe-to-toe with the world's best grill masters.
To enter the world championship competition, Saul first had to qualify at a local or regional grilling cookoff event. Each cookoff competition requires an entry fee which goes to local causes and charities. Saul said that is another aspect of the competitive grilling community he loves. "The cook-off event organizers go out of their way to donate a significant portion of event entry fees to local charities or service organizations in need. It's yet another reason why I love to be a part of the competitive grilling community."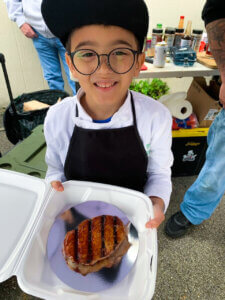 Chef Saul's son, Sebastian, is also involved in grilling and cooking competitions. Following in his dad's footsteps, Sebastian finished in second place in a competition in 2021 and recorded a first-place finish in 2022.
When he isn't competing in world grilling and cooking competitions, Saul is a Chef at Missouri Southern State University. Originally from Albuquerque, New Mexico, Chef Saul has over 24 years of culinary experience at hotels, casinos, cruise ships, and colleges and universities. Saul hopes to bring his grilling prowess into fun events at MSSU like a "Steak Day" and even a steak cookoff competition this October with chefs and students as judges.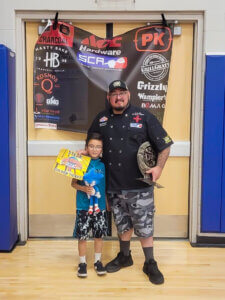 Congratulations to Chef Saul on his incredible cooking and grilling accomplishments. We are fortunate to have such talented and passionate culinarians like Saul at Fresh Ideas.