Reopening Dining Venues
June 12, 2020
Tags
Fresh Ideas' Plan for Keeping our Guests and Teams Safe
Leading the Fresh Ideas Way
Fresh Ideas is committed to the health and safety of our guests.  We've modified our dining service model to accommodate a safe guest experience.  The Fresh Ideas Distance Dining Plan is a mindful, innovative approach connecting our guests and team safely without compromising a quality and creative fresh food experience.

Our teams created tiered dining COVID-19 risk mitigation plans for our dining programs. The plans are flexible enough to accommodate our communities for all levels of service.  They also include information on contactless ordering, social distance seating, limiting capacities, new service methods, elimination of self-service stations/items, touchless payment, limiting access points, technology solutions, and enhanced sanitation and safety procedures. Details and implementation of the tiered plans will be completed in partnership with our clients.

Fresh Ideas educates our teams on COVID-19, new safety requirements and enhanced sanitation practices.  We provide resources to our teams to ensure a safe environment and secure PPE as well as hand sanitizer dispensers and hand sanitizer for all of our prep and service areas.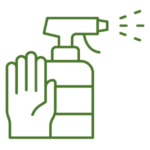 The following guidelines are present at all accounts:
Additional hand washing practices and education
Encouraging social distancing for all
Recommend hand sanitizer use for all
All dining service staff will wear gloves and change them frequently
Use of a disinfectant sprayer between service periods to further sanitize dining areas
Post signs informing guests of safety and sanitation procedures
Team temperatures checks and monitor COVID-19 symptoms monitoring prior to all shifts
Post sign at entrance to inform guests that anyone with a fever of symptoms of COVID-19 will be asked to leave the premises
Requiring COVID-19 training course for all Fresh Ideas team members
Designate a contact person to whom guests can reach out if they have a concern or want to report a safety infraction.
Fresh Ideas will follow local and state requirements and CDC guidelines to protect everyone
Fresh Ideas enhanced our already strong safety program with a new position titled, Vice President of Safety and Compliance. Our new VP of Safety and Compliance provides more resources to our teams during this unprecedented time.
Our technology also enhances the guest experience by allowing guests the option to choose how they want to order their food.  Mobile ordering, Text for Food, Dining to Go and our FAN button provide unique opportunities to serve guests including pick up stations, delivery, curbside pick-up, personalized ordering and meal boxes.

The entire dining model is shifting and Fresh Ideas is delivering an effective, efficient and safe program to our partners and communities.