For the Love of Ice Carving
June 8, 2020
Tags
How I discovered ice carving and a newfound culinary passion.
If carving ice was my only job, I'd never work a day in my life! I love the entire process. Perhaps it's because the process starts with a dream, and to help someone turn their dream into an actual sculpture is a fun challenge.
A Brief History
Ice sculptures are part of the culinary arts. Decades ago, ice blocks ensured safe food storage. Carved from local waterways, blocks of ice found their way into underground ice houses built for storage. Blocks were delivered door-to-door and placed in the bottom of an insulated cabinet. This practice ensured food remained chilled for preservation. The term "ice box" – a common descriptor for modern day refrigerators – originated during this time.
For large gatherings, food displays sat atop ice blocks and chefs carved basic designs and shapes into the ice with chisels and hand saws. Using their creativity, they would enhance the functionality of the ice while also providing a temperature safe surface to display their foods.
Thankfully, today we use advanced ice sculpting techniques, chainsaws, high-speed rotary tools, digital CNC machines, programmable LED lights, and so much more to create show-stopping ice sculptures. To me, this is where ice sculpting gets really fun! Let's review the basics, shall we?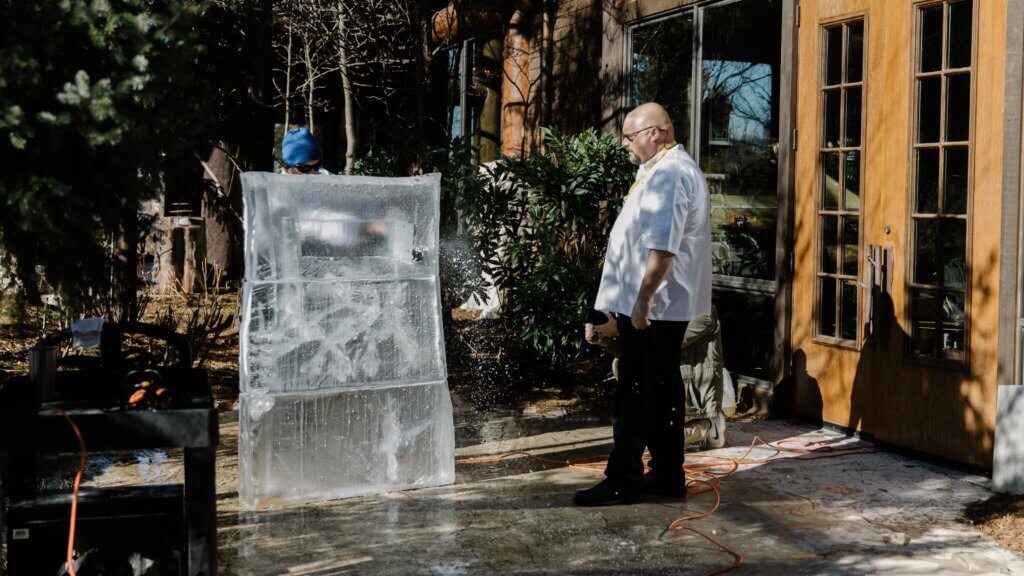 The Basics
A typical ice block measures 40" tall, 20" wide and 10" thick. On average, ice blocks weigh 300lbs, they're crystal clear and typically available in and around most large cities. You may stack and join as many blocks as you'd to build the sculpture of your dreams; there's even a life-size ice hotel in Alaska! Travelers may rent rooms inside this frigid place for an unforgettable experience.
My Ice Carving Story
While in culinary school we learned theory, technique and best practices for sculpting, storing and presenting ice sculptures. We collaborated in groups to transfer a design to the block, carve the basic shape and then add detail with hand chisels. It didn't take long for me to fall in love with the medium.
I recall one event in particular. I worked as a line cook at a local country club. It was the holiday season and the chef ordered several sculptures from two local artists. After talking to one of the artists and the chef, we invited the sculptor to create his work of art at the country club. I was fortunate to witness the sculptor work from start to finish. Moreover, I received invaluable advice from the artist. He shared tips on how to craft ice sculptures with exacting precision. My passion for ice sculpting grew exponentially from this point forward.
I began crafting sculptures for display at the club. Me and my team started with the basics: a swan, cornucopia, Easter basket, sailboat, wishing well, and an angel fish in seaweed. We had a rotating lighted stand to use however we saw fit, and I became comfortable with the methods and other tools we employed to create one-of-a-kind sculptures. I will always be thankful for Chef Menel Meredith as well as sculptors Pat Madden and Steve Stewart for sparking my interest in ice sculpting and helping me develop the skills necessary to create works of art.
Recently I hosted two ice carving demos at Adventure Awaits, an annual conference and retreat hosted by Fresh Ideas. It was a blessing to present ice sculpting to up and coming Fresh Ideas chefs and directors from around the country while encouraging them to grab a chainsaw or chisel and give ice sculpting a try in their own kitchens.
The Lesson
In fact, no matter if ice sculpting is interesting to you or not, I encourage everyone to try something new! Perhaps it's cooking a new recipe, gardening, canning, writing, drawing, or painting. Whatever it is, you'll be proud you acted upon a new adventure; getting out of your comfort zone is where transformative growth happens!
Oh, and as you begin to tap into a new project or hobby, don't forget to smile!
Cheers, friends!
Chef Jeremy Mattingly, Director of Dining Services at Brescia University
Video by Cosmic Sauce.