Fresh Ideas & Maryville University deploy Leafy Green Machine to campus
Have you ever seen a port where ships arrive full of metal containers that get stacked like short towers of Legos? Eventually, they're plucked up by a crane and loaded on to a railway car, to take them away, or hooked up with a semi-rig and driven to their final destination.
It's interesting that this ubiquitous metal rectangle initially designed to improve efficiency in global distribution is now being embraced as a way to reduce our carbon footprint as it relates to food distribution. Sustainability is taking root as a farm in an upcycled shipping container. In conjunction with Maryville University, we have installed the first Leafy Green Machine by Freight Farms, in Missouri.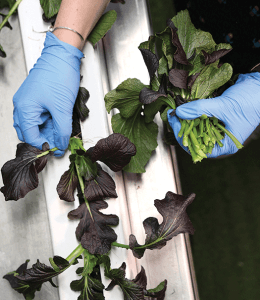 Once inside this efficiently designed space you'll see a workbench devoted to starting seedlings, transplanting, and harvesting. The rest of the 40-foot area is a vertical hydroponic farming system designed to grow lettuces, herbs and hearty greens. That's why it's called the Leafy Green Machine! "All of these vertical towers will yield what a 1.5 to 2-acre farm would," said Olivia Engel, production manager for the Maryville and Fresh Ideas innovation. Try visualizing an American Football field, that's almost equivalent to 1.5 acres.
This is where you begin to realize the sustainability benefit for the planet. Where a typical 1-and-a-half-acre plot requires a lot of watering and produces a very nominal amount of times you can harvest; with the smaller scale, container-controlled environment, you've extended the season to year-round and are using less water. The use of hydroponics allows the container farm to use 90% less water than traditional farming methods. If space is devoted exclusively to lettuce, it could produce up to 500 full heads a week. The lettuce is then harvested and enjoyed by Gander Dining Hall guests at the salad bar, as part of a sandwich or wrap, and in other chef-prepared meals.
Fresh Ideas and Maryville University are now set up to begin sharing the benefits of this sustainability-focused pilot. When students, faculty, and staff of Maryville University walked into their dining hall recently, they encountered a chef's pop-up that was the first of its kind: a deluxe salad station and build-your-own-wrap bar featuring heirloom lettuces grown and harvested just a minute's walk away, on campus. By bringing food production to campus, it means the Maryville community will benefit from a lot fresher and tastier crops, but it also opens doors for education.
The goal is to get the Leafy Green Machine student-run with assistance from Engel. The innovation and interaction from this venture then begin to ripple out in other areas of the school. Engel is excited about the possibility of an intersection with the farm for students in unexpected ways, such as those studying entrepreneurship or dietetics. "Working with the farm gives you a different perspective on just how much work is needed to be done for consumers and has helped me find a better appreciation for agriculture," said Kathleen Giang, Leafy Green Machine intern and math major with a concentration in data science.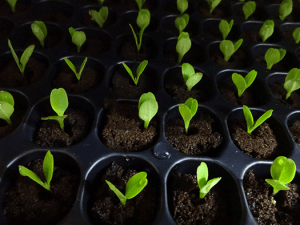 This effort is good for everyone, but especially the students because it gets them thinking about their food. When students are exposed to healthy, fresh and sustainable ideas like this, they become more conscious of what they're eating and responsible citizens with our food supply. Sustainability is more than just an ideal that Fresh Ideas is interested in, we're actively investing our own resources in things such as the Leafy Green Machine. So, when we say we're serious about food sustainability, the Leafy Green Machine is just one example. Follow our journey on Instagram and learn more about our sustainable practices.
You may also like: Fresh Ideas leads Initiative to teach K-12 students the basics in farming