New Notification: Your Order Is Ready
July 9, 2019
Tags
Engage with Guests via Text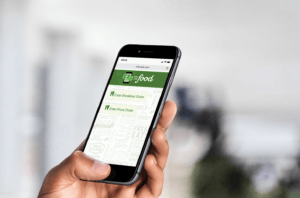 Fresh Ideas figured out how to make a fresh, customized burger even more enjoyable.
Recall the last time you ate at a counter service style place. After you ordered something from the grill, you had to wait, fearful that if you get too far from the counter, you'll miss your order being called. You may have struggled with boredom, annoyance, or awkwardness as your eyes dart from available tables to watching your ticket move along the grill.
Fresh Ideas Food Service Management is making it possible to eliminate the need for dining guests to listen for their number to be shouted over the crowd. The innovators at the company developed a program to text you when your customized burger is ready.
The new program is called Text for Food, and to start the process, guests simply scan the QR code at the appropriate station — bonus benefit: No need to wait in line to order. Next, a mobile-friendly website opens, displaying what is available to order. Once your order is complete, you'll receive a text recap and confirmation that it is being created. Once your scratch-made meal is complete, just like the name suggests, you'll be sent a text that your order is ready. For many dining guests, this means more time relaxing at their chosen table.
QSR magazine, a restaurant industry publication, the National Restaurant Association, and other category leaders have noted the increased expectations from customers for innovative technologies from foodservice companies like Fresh Ideas. The customer-focused dining service company developed the Text for Food program entirely in-house after listening to their staff and customers. It's a solution that does away with downloading an app, and handwritten ticket errors often cited as friction points for the modern dining guest.
Text for Food allows any guest with a smartphone to conveniently customize their order with specific ingredients, allergens, and even individual notes to the culinary team. Fresh Ideas Text for Food is among the many ways the company works to provide happiness for all dining guests.
You might also like: Dining hall uses innovative IoT button to enhance service