Top 50 Contract Management Company
April 4, 2018
Tags
Fresh Ideas Highlighted by Food Management as One of Six Companies to Watch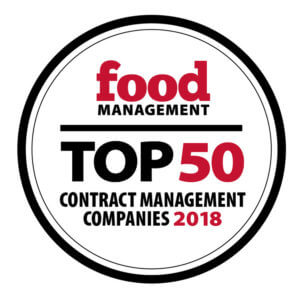 Appearing for the first time, with a rank of 41, Fresh Ideas is recognized as one of the largest contract companies in the foodservice sector. Fresh Ideas made its debut in the 2018 Food Management Top 50 list. Food Management is the authority on best practices, products and solutions in the noncommercial foodservice industry.
Fresh Ideas was also highlighted by Food Management as one of six companies to watch. These companies were selected as they are well-positioned for significant expansion in 2018 and beyond. Fresh Ideas relationships with our clients, utilization of high-end technology, passionate teams, and trendy food concepts are what has propelled our growth. Watch for our company to continue to leverage popular cuisine trends such as plant-based menus and create engaging dining programs.
Join us in our celebration of food when you watch this short video.