What Food & Dining Experiences Gen Z Craves
January 2, 2019
Tags
Individualized Options , Variety, Tech & Tastemakers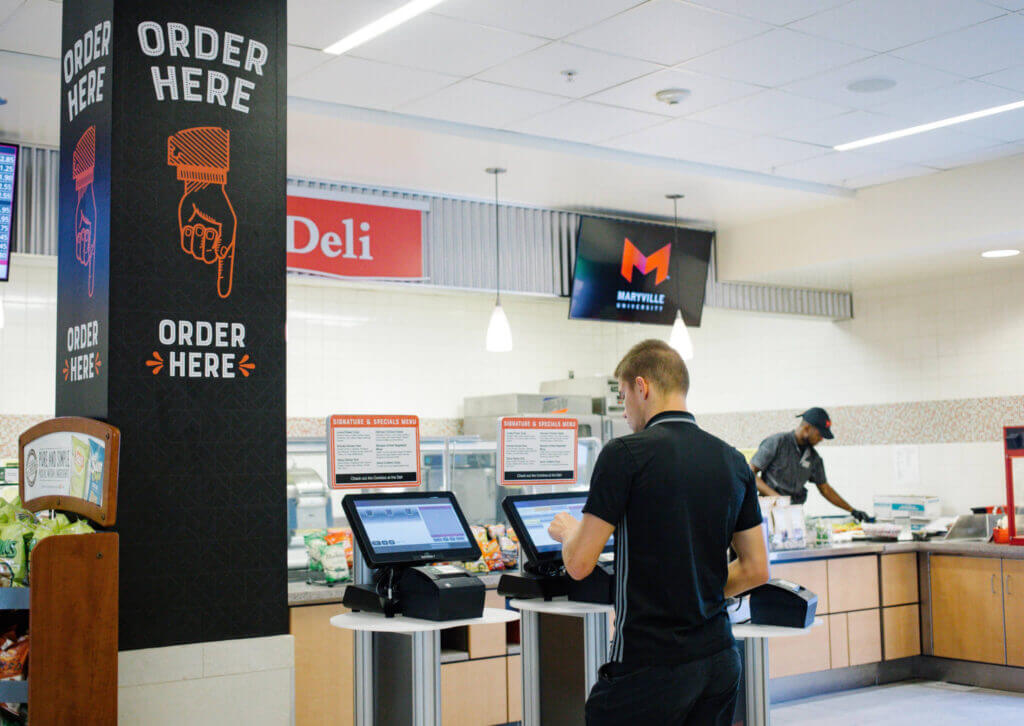 The predominant age group for college students, 18 to 21-years-old really hasn't changed, but what has is that they've grown up with new influences that have shaped their relationship to dining. They are known as Generation Z (Gen Z for short): They have special dietary needs, desire convenience, and don't know a world before mobile phone technology.
As the student experience and marketing communications manager for Fresh Ideas at Maryville University in St. Louis, I hear and see what food and dining experiences Gen Z craves. Even as a millennial, it's a new world for me with gluten-free chicken fingers, and the convenience of being able to order all kinds of food from a touchscreen. In my role, I serve somewhat as a translator for the guest and the dining service company. I focus on listening for emerging trends and communicating to the students the routinely updated selection of options Fresh Ideas produces to satisfy their requests. Here are some insights, that show that technology is the catalyst for what Gen Z craves.
Individualized Options
The internet and social media have provided this generation with an all you can eat buffet of information and content. When I was a kid and I wanted to know how a hot dog was made, I could have looked it up on the internet, but it did take at least that much effort to find out on my own. Today, with social media behemoths like Facebook turning 14 years old, and the second most popular search engine YouTube; exposure to a video of how hot dogs are made can go viral within hours. This easy spread of digital content and increased screen time means tastes and preferences in diets can shift more rapidly.
How does Gen Z like to eat then? They want to have options as diverse as they are, and the ability to request a dish be prepared specially for a dietary need. Some people are vegetarians, have allergens, or even just prefer to eat in a particular style. Gen Z wants their dining experience to be customized. At Maryville University, Fresh Ideas recently implemented new touchscreen kiosks which offer a wide range of options to meet these requests. The kiosks permit students to customize their meal. For example, a guest with gluten sensitivity may choose a gluten-free bread. The items are then prepared, often in plain view of the guest. "Customization is important to our students and the new technology in the dining hall allows for our students to essentially build their meal with all of their options laid out in front of them," said Maryville University Director of Residential Life Ryan McDonnell.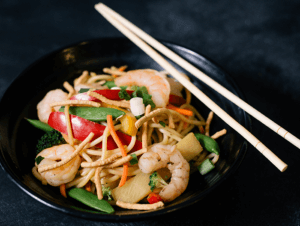 Craving Variety
The internet and social media have also given rise to an interest in international flavors being a part of the menu, and a constant search for what's new. It's not uncommon for our dining hall to now feature an international week, pop-up dining concepts, and special appearances of recognized food brands.
Take our late-night grill, Louie's, for example. Initially, Louie's offered typical midnight meals for college students including menu items like pizza, sliders, and ice cream. There was some additional variety, but for some students, this menu felt repetitive over time. With that in mind, Fresh Ideas introduced the concept of making Louie's into a pop-up restaurant which changes the menu every month.
At Maryville University, we started with "Louie's Presents: The Melt" which offered a menu of cheesy choices like, Build-Your-Own Grilled Cheese. Then came "Louie's Presents: Santos Cocina" with Mexican-inspired food items such as Street Tacos and Build-Your-Own Nachos. Most recently, we rotated to "Louie's Presents: The Bowl" that has Southwest, Curry, and Greek bowls.
Chef Lorenzo Gordon shared what it's like to innovate for Gen Z, "As a chef for Fresh Ideas, coming up with a variety of menu items can be a challenge, but it's what we do. We prepare new concepts at our Louie's location each month with the feedback we received from the students. We're now providing them with something new, and they love it."
A Taste for Tech
In 2012, srudents would grab a little half-sheet of paper, highlight what we wanted from the breakfast, lunch or dinner menu and wait for the food to cook. Over time, still from the palm of our hands, but using our smartphone, an app lets us order food, sometimes ahead of our arrival, making it possible even to skip the lines in the dining hall. Every student now has an iPad from which they access their school books, social media, streaming services, and so much more. Everything is at their fingertips. Fresh Ideas has made sure they can expect the same when it comes to their dining and food experience. Current Maryville Student Government President April Stich revealed this perspective, saying, "Technology is such an important part of our generation. Fresh Ideas integrates technology into our dining experience – which provides an easier and faster way to dine on campus."
Tastemakers
When it comes to the food at Maryville, chicken fingers and pizza still reign supreme with a rotation of college student favorites like burgers, quesadillas, and even hot wings. Soup, salad, and stir-fry dishes are also a big hit especially for those who don't eat meat. We even have our Fresh & Go program (prepared to go meals) that students can choose from when they don't have time to eat between classes.
But knowing what's hot and what's not in the culinary world of Gen Z, means tuning in to the college student and staying abreast of changing tastes. Maryville University's Vice President of Student Life, Dr. Nina Caldwell noted how Fresh Ideas has kept pace with Gen Z and their diets, saying "Each year Fresh Ideas has continued to expand the number of healthier options to meet the growing, diverse needs of students."
Take the guesswork out of trying to figure out what food Gen Z wants when you let a food service management company like Fresh Ideas go to work for you. Get in touch with us.
You may also like: Maryville University's school newspaper, Maryville Pawprint, The Eat­ing Habits of Gen­er­a­tion Z