Champion Cites Simplicity & Support as Key Ingredients
Over 16 chefs from Fresh Ideas Food Service Management company recently competed for bragging rights and the coveted Copper Pot trophy. The competitors were eliminated through multiple rounds until there were four chefs. The semi-finalist round included Chef & Director of Dining Services, Eron Baker of Hastings University, Chef Kevin Blankenship of Drury University, Chef Bryce Klein of Central Methodist University, and Chef Jay Choate of Midland University.
The competition highlights the talented Fresh Ideas workforce and was held at The Big Cedar Lodge in Branson, MO. Chef Carl, Corporate Executive Chef at Fresh Ideas said, "As a culinary leader, I'm proud of the chefs and what each of them has to offer. This competition has confirmed that we have the culinary talent to be second to none!" Chef Carl oversaw the Copper Pot from the first round to the final face-off and noted how competitive each round was for the participants.
The semi-final was judged by Matt Clervi, Co-CEO, and Co-Owner of Fresh Ideas, Aaron Greggory, Food Fanatic Chef with US Foods, and Richard Vickers, Corporate Sales Trainer from US Foods who would also serve as emcee during the final round. Chef Jay and Chef Bryce were selected to square off in the final round in front of a live audience similar to a competition cooking show.
Each chef's station was equipped with the same tools and fresh ingredients. Under time constraints, and working with the surprise ingredient, trout, the chefs prepared their dishes. The stakes were high, rivalry was fierce, and the room watched in awe as they transformed a whole trout in to edible art. Even if you don't work regularly in a kitchen you couldn't help but notice the chefs' focused attention and concise decisions. They made it look easy. Afterwards, when asked about the contest, Chef Jay described it as another day in the office: There are always people watching in his kitchen, constant interruptions, and time constraints.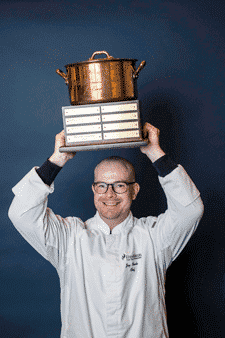 When the time was up, judges were presented with the final plates. In the end, votes declared Jay Choate the prevailing chef with his dish featuring Trout Roulade, Stuffed with Yellow Cauliflower Vegetable Medley, accompanied by Roasted Purple Cauliflower, with a classic Lemon Beurre Blanc. He said he set out to keep it simple, and to trust the natural ingredients. He lifted the Copper Pot trophy for a photo, and later said winning reminds him of the saying: "Nothing but the sound of forks hitting plates." It's a chef's true measure of pleasure from their judges, the people, when they fall silent and focus on the food.
Chef Jay was surrounded by and watched by the same company he works with day in and day out. He has been with Fresh Ideas since 2015 and said the company is a rarity in the food service industry because of their focus on values over dollars and cents. Diversity, acceptance, and balance are just a part of the Fresh Ideas mission. And bringing together employees from across a six-state area to participate and witness the cooking is part of the food service company's commitment to its people. "The people here are everything. That's what matters the most. Being a part of a company that lives that – that's exciting," said Choate.