What are the benefits of contracting out a food service program?
April 10, 2019
Tags
Fresh Ideas longtime food service veteran reveals the areas an organization can expect to impact when contracting out their dining program
Deciding between "In-house management" of your food service program and contract food service management depends on numerous factors, which vary from organization to organization. To name a few, these factors include: the organization's culture, the time available to supervise the dining services department, recruiting and retaining personnel and expertise, financial performance, specialized marketing, food safety, purchasing, record keeping, menu planning, culinary and hospitality training and adjusting keep a program fresh, exciting and fashionable. If these weren't enough, social media and technology continue to shape how the dining guest interacts with the dining staff – from ordering food, to the style of service, to payment methods.
Let's weigh those alternatives that will have the most immediate impact on whether contracting is the right choice for your organization.
Recruiting & Retaining Management Expertise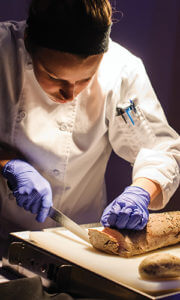 The food service/hospitality business is built around having supervisory personnel who, at a minimum, have experience managing dining operations, food preparation knowledge and expertise in understanding basic financial statements. Not only that, the individuals need to have soft skills like written and verbal communication, decision-making, managing processes, getting along with others and leadership.
Once these proficiencies are determined, now the key is finding the right person who can fit your culture and the salary range for the management position. Conversely, contract food service providers are continually recruiting and attracting managers and culinary school-trained chefs because there are always job openings throughout the year for qualified candidates who are seeking change or growth that their current position doesn't offer. As an organization that self-operates their food service, many times the management position is difficult to fill immediately once-vacant because the organization's recruiting arm typically isn't looking for candidates until after the manager gives notice, is terminated or decides to retire. However, if there are succession plans in place for the assistant or hourly supervisor to fill the position, then the organization is better equipped. The promoted person's position will require a quick and suitable replacement as well.
Regarding retention, a single organization will tend to have difficulty retaining superior talent because of the ceiling of positions in the dining department. Typically, these individuals are looking to take on greater responsibility and challenge as they move along in their hospitality careers, putting contract companies in a more advantageous situation in terms of offering more avenues for career growth.
Financial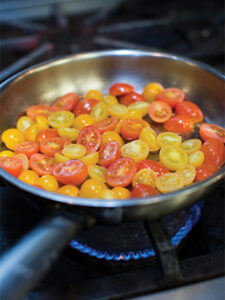 From a financial perspective, there are more options available to the organization when outsourcing. Some of these options include a "cost plus management fee," a guarantee of an agreed upon budget, profit/loss and cost per day. By outsourcing, you can shift most of the responsibilities for financial performance onto the food service provider. More often than not, the food service providers have negotiated better purchasing agreements with various industry manufacturers and suppliers than a single in-house organization. By leveraging their purchasing power in the food-related marketplace, a contract food service provider can typically save anywhere from 5-25% on a market basket of products that are crucial to the day to day operation. Also, the supplier price swings are very minimal when outsourcing to a competent food service company because they negotiate with the distributors and manufacturers on an annual basis to lock-in product price ranges both on seasonal items like produce and other relatively price stable products like chicken. Procurement relationships allow the provider to control the cost of the product at the dock better in many cases than a self-operated food service could. It is likely that the on-site self-operated food service manager is negotiating with distributors/suppliers weekly and spending several hours per week competitive shopping several different suppliers who sell the same product to obtain the best quality and price instead of managing the dining operations and leading the food service staff.  This is particularly systemic in operations where there are less than five management employees.
Interestingly, many state-run food service operations addressed this cost and quality issue by purchasing products that are shelf-stable, frozen or have long shelf lives by procuring products through a bid process every 3 to 6 months and storing these supplies on site.  Because state procurement entities don't follow a typical cash flow model (they spend what has been budgeted for the year) that most businesses, schools, hospitals and other private industries, it can be difficult to manage cash flow for others by writing a large check every three months to a supplier(s).
When discussing financials, it is essential to know your risks and whether or not you're prepared to increase your worker's compensation and liability insurance costs because of the uniqueness of foodservice versus your core industry or business.  Keep in mind, that foodservice employees are at risk for injury through heavy lifting, using knives, hot ovens and other kitchen equipment that requires on-going safety training and supervision. Additionally, the liability of food-borne illness or injuring a customer (perhaps your employee, student or resident) is an on-going concern. Moving that risk to a food service provider could keep these business-related insurance costs down.
Systems & Support Structure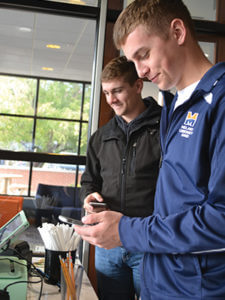 Another challenge for the self-operated food service is discovering and utilizing various operating systems that are unique to that department in the greater organization. These systems include point of sale, menu development, nutrition analysis, marketing and digital communication technology that are geared specifically for a food and catering operation.
From a professional support standpoint, where does the on-site manager in a self-operated situation obtain culinary, financial analysis, marketing, and operational support? A manager in an outsourced food service program has access to all of these industry-specific specialists to help advance the individual's expertise and skills in this unique industry. Moreover, there are instances where the organization may want to celebrate a large catering event or entertain donors or VIPs using their on-site catering management and staff. For example, depending on the size of the event, this can be problematic for a self-operation; conversely, food service providers can bring in managers and staff from other locations as well as corporate staff to assist the on-site team for almost any size catering event.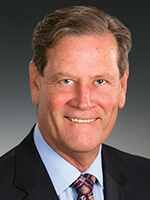 Jerry Bradley is the Executive Director of Business Development at Fresh Ideas Food Service Management and a 39-year veteran of the foodservice industry.
Fresh Ideas isn't a cafeteria management company, we are the dining hall innovators that take the pressure of running food services off the shoulders of organizations like yours. And we're foodies at heart. No matter where you're at in the process of evaluating your food service program, consider reaching out to Fresh Ideas and let us know if we can be of help. We've worked with organizations of many sizes, both public and private and have the experts ready to help guide you on this journey. Get in touch.