In a new initiative, I've challenged the company to focus on the student dining experience. Through this initiative, we have implemented new technology to focus on the customer first.
Fresh Ideas is the first dining service company to embrace and implement "pay with a selfie" technology in the United States through their FreshX platform. Instead of adapting to technology, Fresh Ideas is using technology to adapt to the customer.
Why focus on technology?  Fresh Ideas' personal approach to dining services includes enhancing the customer experience in a completely different way than allowed by traditional POS systems.  Information, such as user's face and name, enables Fresh Ideas to have personal interactions with students, creating a "home away from home" experience.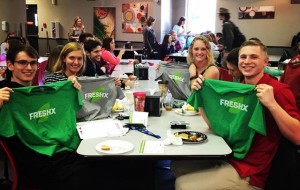 FreshX is convenient, fun and can be personalized to each client. Students on campus can access their meal cards, loyalty and rewards information within the app and purchase items at the checkout without pulling out their wallet or smartphone.  After downloading the app, students can add their meal card and payment information, and then load an image of themselves that can be identified at the POS. Users can then preset their payment preferences in preparation for a checkout. The hands-fee payment option is secure and provides a seamless in-store transaction. The app is free and available for both IOS and Android.
Students have been very excited about FreshX and the early adopters continue to recruit new users. They love the 'cool' factor of using their phone as their dining card.
The custom branded mobile platform also includes a mobile pre-order system as well as loyalty programs and rewards.  Additional features will be added in the future to meet the ever-changing needs of students and clients.
FreshX has resulted in a higher student satisfaction in dining services at our accounts and adds value to our clients. We look forward to creating the next phase of the project.