Grounds for your Garden
April 21, 2020
Tags
The goodness of coffee grows beyond the cup!
Did you know that coffee grounds are good for more than your morning routine? Reusing coffee grounds helps reduce landfill waste, enhances gardens and supports environmental health. That's why we were so excited to collaborate with
LIVE Green Maryville, a student campus sustainability club
, to take advantage of the goodness of coffee, through the Grounds for your Garden program.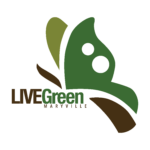 Club President, Janelle Saunders, spearheaded the program and is eager to show the campus what beauty can grow by relying on materials they already have available to them. Members pick up recycled coffee grounds twice a week from the
Starbucks
on campus. Once collected they take the grounds to the club compost farm, where they will be starting production on flowers and plants this year.
"The Grounds for your Garden program gives our store an opportunity to work on teamwork, responsibility, and recycling. It also shows that our hard work can be transformed into some amazing," says Jessica Burns, Manager of Starbucks.
The benefit of using coffee grounds as a fertilizer is that it adds organic material to the soil. This improves drainage, water retention and aeration in the soil. Much of coffee's acidity is removed in the brewing process, leaving behind a green material that promotes plant growth, repels ants and slugs, and entices earthworms. "We feel that partnering with LIVE Green Maryville on this unique coffee grounds recycling program is beneficial to the students, University, community and the environment. We look forward to seeing their projects grow," says Stephanie Lautner, Student Experience Manager,
Maryville University
.