Introducing Mindful Fork
July 29, 2020
Tags
The Future of Food Arrives this Fall
Fresh Ideas Food Service Management, in partnership with the Humane Society of the United States, introduces Mindful Fork; a fresh, creative plant-based food concept debuting at colleges and universities, K-12 schools, senior living facilities, and corporate campuses this fall. A chef-driven initiative, Mindful Fork includes innovative menu items spanning lunch and dinner entrees, quick-service options, allergen-friendly dishes, and desserts. Starting in August, thousands of guests will discover Mindful Fork and enjoy a wide range of delicious plant-based foods.
"First and foremost, along with our partners at the Humane Society, we've created irresistible food that just so happens to be plant-based. We're thrilled that Mindful Fork is now a focal point for our culinary programs going forward" remarked Chef Carl Lovett, Vice-President of Culinary at Fresh Ideas. "These delicious dishes will satisfy everyone from diehard meat-eaters to flexitarians to vegans. We're excited to continue to expand this initiative to eventually provide one plant-based offering for every meat-based option."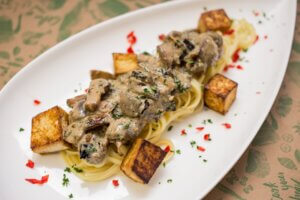 Chef Jenn DiFrancesco, a Culinary Specialist at the Humane Society, added "in collaboration with Fresh Ideas' culinary team, we not only produced craveable plant-based recipes, our partnership also created a concept that satisfies skyrocketing demand for plant-based foods among people of all ages."
Fresh Ideas is a food service management company based in Columbia, Missouri with over 20 years of experience serving colleges and universities, K-12 schools, senior living organizations, and business and industry clients in the Midwest, South and Southeast regions of the United States. Mindful Fork is the latest culinary concept from the innovative chefs and hospitality professionals at Fresh Ideas.
For more information please contact:
Kris Lensmeyer – Fresh Ideas
Chief Innovation & Experience Officer
573-268-4448
klensmeyer@freshideasfood.com