New Partnership with Park University
April 27, 2018
Tags
Fresh Ideas Brings Expertise to Table as Dining Services Partner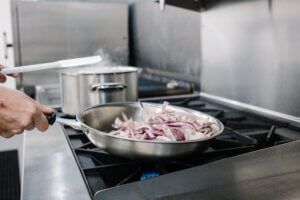 Parkville, MO: With a focus on technology, customer service, and fresh food, Park University has selected Fresh Ideas as its dining service company to service the University's flagship Parkville Campus, effective with the start of the Fall 2018 semester. Chief Operating Officer Kris Lensmeyer said, "Fresh Ideas looks forward to our partnership with Park University and creating a dynamic, engaging program for the students."
The Fresh Ideas team at Park University will be led by Andrew Strecker and Bryce Klein. Strecker has been appointed as the Director of Dining Services. Chef Klein will lead the kitchen staff in the production, preparation, and presentation of all food. "They're both well-seasoned professionals with extensive experience in all aspects of the hospitality industry. Andrew has managed the daily operations of many large dining programs as both a Chef and a Director. Chef Klein brings experience as an Executive Sous Chef at several Kansas City restaurants. He has also served as a campus chef with Fresh Ideas at two other schools. They have a strong culinary background, with emphasis on building flavors, and take great pride in presenting exceptional quality food in innovative and exciting ways." Lensmeyer said.
Fresh Ideas is proud to have been selected as the dining services provider for Park University and thrilled about the changes that will be happening. "With the education, services and amenities that we offer, Park University continually strives to provide quality, affordable and innovative options for our students. Our new partnership with Fresh Ideas aligns perfectly with that philosophy," said Jayme Uden, Ed.D., associate vice president and dean of students at Park University. "We are excited to welcome Andrew, Bryce and the entire team to the Park University family. I am confident they will bring several new concepts and fresh approaches to the campus dining experience."
Fresh Ideas new payment technology, FreshX, is an addition the Park diner will be able to look forward to. It is an app that allows customers to check out using their "selfie." Fresh Ideas ability to mix high-end technology and respond to the desires of their customers has helped them rise above the competition. Food Management highlighted them as one of six companies to watch because of attributes like these. Food Management is the authority on best practices, products and solutions in the noncommercial foodservice industry.
Stay up to date with Park University dining on their Facebook page.