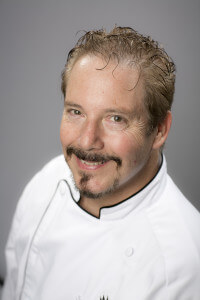 We'd like to introduce you to Jim Tinkham, our incredibly talented Chef at
William Jewell College
. Jim is on the
Culinary Advisory Boards for Johnson County Community College
,
Kansas City Kansas Community College
&
L'École Culinaire of Kansas City
. He was the Keynote Speaker at the 2016 L'École Culinaire Graduation and selected as the
2014/2015 GKCCA Chef of the Year
.
As a chef, what does a normal workday look like? 
Each day is jam packed and very different from the last. The high points of my day are talking with each employee and planning for the day ahead. I check out daily menus and ensure we have all the fresh ingredients that we need to create the meals that we have planned for students.
What advice would you give to aspiring chefs? 
A culinary education is a necessity as well as on the job training. A good chef must have a passion for food, the drive to succeed, and the ability to multi task. Although a chef's strength is his or her culinary creativity, a chef wears many different hats from employee relations, to accounting, to maintenance.
What inspired you to become a chef? 
I was 17 and working in a hotel French restaurant as a line cook. The Executive Chef inspired me to attend culinary school. The sous chefs were CIA graduates and they advised me to attend that school to obtain the best culinary education in the country. After graduation, I began my career as a chef and 36 years later, I am still doing what I love!
How has your personal cooking style changed over the years? 
I have honed and developed my skills for distinguishing flavors, building flavor profiles, and creating components to dishes.