Independent School Selects New Dining Services Partner
July 19, 2019
Tags
Boyd Buchanan Cites Fresh Ideas Ability to Create a Healthful Menu
Chattanooga, TN — From adjusted menus based on ages to alignment of organizational values, Boyd Buchanan School has chosen Fresh Ideas Food Service Management as its new dining partner. The company's philosophy aligns with the school's goal to "provide healthier menu options for students and faculty, focus on exceptional customer service, and raise the overall standard of quality in their dining program," Jeremy Mattingly said.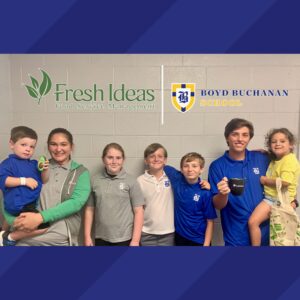 "Fresh Ideas was a natural fit from the first meeting, they continue to wow us, and we look forward to starting the 2019-2020 school year with this dedicated partnership, while also retaining several familiar faces within our dining staff," says Chad Wortman, Chief Financial Officer who led the search committee for the new dining partner at Boyd Buchanan School.
Parts of the dining program will be enhanced, including a redesigned kitchen, and a converted dining hall with a high variety of meal selections in a cafe-style dining court. Both of these layout changes will increase efficiency of service, while providing culinarians more space to hand prepare the offerings.
"As we enter our sixth year in offering a customized dining experience for our students and faculty, the Boyd Buchanan community is proud to partner with Fresh Ideas," states Jill C. Hartness, President and Head of School at Boyd Buchanan. "Fresh Ideas shares our values which aligns with the level of culinary expertise and commitment to social responsibility, such as farm-to-campus practices, that will continue to elevate and enhance our campus dining program," adds Hartness.
Fresh Ideas is also excited about the addition of digital menus, improvements in The Atrium, the school's secondary dining area at the Student Life Center, and additional dining options for upper school students at The Bucs Store's new Buccaneer Cafe.
According to Fresh Ideas, this will be their first partnership in the Chattanooga area, and they couldn't be more pleased to be working with the preeminent independent school in the region, Boyd Buchanan.
You may also like: Fresh Ideas partners with CCUA for the K-12 Initiative